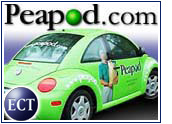 Royal Ahold, the parent company of online grocer Peapod, has infused the struggling e-tailer with an additional US$30 million in financing, Peapod announced Wednesday.
The new funding increases Ahold's original $20 millioncredit facility with Peapod to $50 million, Peapod said, leaving the e-tailer with more than $60 million in cash resources to run its operations.
Last week, Peapod issued a warning that it would run out of cash by theend of the year if it did not secure additional financing.
Peapod said Wednesday that it is still on track to reach profitability in Chicagoand its East Coast markets by the end of the year. However, Morningstar.com stockanalyst David Kathman said Peapod still has a long way to go before it can make its goal.
"They still have pretty highoperating expenses," Kathman told the E-Commerce Times. "But having a huge company like Ahold as their majorityowner means they are likely to get more help from their parent company."
Carrot and Stick
Peapod's fourth-quarter earnings, which were announced last week, were highlighted by record sales and staggering losses.
Despite posting sales of $23.7 million, Peapod's net loss for the quarter was $23.8 million, or $1.33 per share — more than double its net loss of $9.1 million for the same period in 1999.
However, Peapod chief executive officer Marc van Gelder said that the additional financingputs the online grocer in a position to meet its key operating metrics.
Bread and Rollouts
"Ahold's partnership has positively impacted our entire landscape andoutlook," van Gelder said. "We believe it provides Peapod with the means to achieveprofitability and become very successful. We are totally committed, withAhold's strong support, to demonstrating that the Peapod/Ahold clicks-and-bricks model is the best and most advanced model in the Internet grocery business."
According to Peapod, joint marketing, co-branding and promotional activitieswith Ahold store operations are producing results that exceed companyforecasts. Recently, Peapod rolled out a variety of new deliveryoptions and tiered delivery fees based on the quantity of customer orders.
Lots at Steak
"The fact they have a big partner gives them an advantage over someone likeWebvan [in] competing with brick-and-mortars — whereas Webvan iscompeting against the bricks all on their own," Kathman said. "But I'm still fairly hesitant of the whole online grocery business model in general. I'mstill waiting for evidence that the business model can work on a significant scale."
Kathman also warned that Ahold's pocketbooks, and patience, only run so deep.
"Obviously, Ahold put a lot of money into Peapod and wants to see themsucceed," Kathman said. "But if at some point things aren't working, I'm sure they'll say 'no more.'"