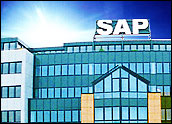 SAP announced on Wednesday that global brand leader PepsiCo has selected mySAP Business Suite as the primary business platform for unifying its operations, standardizing business processes and increasing efficiency across its divisions. The US$27 billion convenience food and beverage company produces Frito-Lay snacks, Pepsi-Cola beverages, Gatorade sports drinks, Tropicana juices and Quaker foods.
SAP spokespeople declined to comment the value of the deal in either dollars or seats. However, John Grozier, SAP's vice-president of CRM product marketing, told CRM Buyer in an interview that PepsiCo selected mySAP to kick off of a major business transformation for the company.
"Ultimately this is an enterprise-wide decision and the specific plans being worked out right now," he said.
Big Win
Steve Trotta, software industry analyst at Technology Business Research, told CRM Buyer that he thinks PepsiCo is a great competitive win for SAP because some of PepsiCo's subsidiaries were already running Oracle for enterprise resource planning (ERP) systems, as well as PeopleSoft and Siebel CRM systems.
"PepsiCo was probably fed up with Oracle's inability to execute on the integration of Pepsi's disparate software applications spread across its subsidiaries," Trotta said. "Now its SAP's turn to see what it can do."
Paul Greenberg, president of The 56 Group and author of best selling CRM at the Speed of Light, agreed. According to him, the reason for the deal is SAP's NetWeaver platform, the highly efficient architecture that underlies every facet of mySAP.
"It's one of the better platforms when data, application and process integration with other non-SAP applications and databases is an issue," he told CRM Buyer.
From Oracle to SAP
For his part, Grozier noted that consumer product companies are looking to SAP to displace disparate systems, give geographic locations real-time process visibility and remove process redundancies. PepsiCo is also interested in mySAP trade promotion functionality, Grozier commented, although he didn't know when it might be deployed.
As one of the world's largest players in the competitive food and beverage companies, PepsiCo joins other major consumer product companies using SAP. A year ago, detergent-maker Dial Corp said that it planed to spend $35 million over 18 months to install and configure a full suite of SAP ERP software, replacing the similar products it had been using from Oracle. In terms of dollars, SAP's deal with PepsiCo is likely many times over to exceed Dial's spending.
And only a month ago, Tyson Foods also selected the mySAP Business Suite as the backbone technology platform to complete the integration of its operating units for reasons similar to PepsiCo.
Food and Beverage Play
SAP has cast an eye on the midrange of the food and beverage business too. The company announced last month entering an agreement with certain Deloitte Touche Tohmatsu member firms to create a new selection of packaged software and service solutions aimed at helping midsize food and beverage companies improve operational efficiency and address regulatory compliance issues. The two plan to produce packages that combine functionality from mySAP and industry-specific SAP best practices with implementation and services from food and beverage industry specialists of the DTT member firms.
PepsiCo's competitor Coca-Cola Enterprises partnered with SAP in February for direct store delivery. PepsiCo will also partake of this integration between bottlers' back-end IT systems and mobile devices, field sales representatives, delivery drivers and equipment service staff can quickly and more effectively respond to a comprehensive range of customer requests.
According to Greenberg, PepsiCo is recognizing that the integration of the supply chain, demand chain and back office functionality are necessary in a world dominated by the customer ecosystem. "Everything is now a customer issue and PepsiCo is aware of it," he said.
NetWeaver Proof
"PepsiCo is proof that consumer product companies are leveraging to NetWeaver to drive up ROI and costs down," said Grozier. NetWeaver is SAP's open integration and application platform for enabling SAP infrastructure.
Meanwhile, software analyst Trotta believes that, over the course of the PepsiCo deployment, SAP's mySAP Business Suite will eventually replace the majority of systems that are currently running within PepsiCo and its subsidiaries.
"This is certainly a testament to SAP's ability to execute and demonstrate the value that NetWeaver brings to the table," said Trotta.