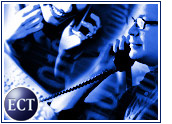 It is not a given that people dislike automation. When ATMs began to proliferate during the early 1980s, people flocked to them. They allowed users to perform a host of basic banking transactions without having to wait in a long line for an in-person response. Today, most people choose to avoid teller lines unless they must perform a particularly specialized transaction.
Ask the average person about interactive voice response (IVR) systems, however, and he or she likely will rattle off at least one Kafkaesque story that induced near-homicidal rage. Certainly, this reporter can drum up a recent incident that resulted in a dented phone receiver and assault and battery against a host of other office products.
In trying to cancel DSL service for which I hadn't signed up (don't get me started on that part), I was ping-ponged from menu to menu and from agent to agent. After waiting for 15 minutes to speak with a cancellation agent (and being told why I should reconsider my plans to cancel this service during my hold time), I was disconnected and had to start the process from scratch. By the time I completed the call, half of my workday had evaporated, which, though perhaps cost-effective for the vendor, was not so good for me.
Blame the Setup, Not the Software
However, Art Schoeller, senior CRM analyst at the Yankee Group, cautioned against the assumption that people universally detest automated voice response. "If you did a survey [on IVR systems], I think you'd find a reasonable amount of support," he told CRM Buyer. After all, a good IVR system will tell you what time your spouse's plane is due to land much faster than if you were to wait for a live person to look it up.
Schoeller said the fault lies not with the IVR concept itself, but with its setup and deployment. "Often [systems] are not programmed well, either from the get-go or when they are changed or updated," he noted, adding that companies whose IVR systems adhere to best practices and focus on usability are often quite successful in achieving customer satisfaction.
With that in mind, what are some of the biggest pet peeves customers have with IVR systems? And what types of solutions can be implemented both to assuage customers and to, as Schoeller put it, keep to the "original goal of providing great customer service in a cost-effective fashion"?
1.) Don't Make Me Write It Down!
Years before becoming an IVR analyst for Meta Group, Elizabeth Ussher held a job testing IVR systems for a company that distributed them. She used her grandmother as her guinea pig, concluding that if she could work through a system, anyone could.
Her grandmother's first directive? "Don't make me write it down!" Ussher told CRM Buyer. If a menu offered more than three choices, Ussher found that her grandmother's short-term memory shut down.
Ed Margulies, president of EIGamericas at Enterprise Integration Group, an independent professional services firm specializing in improving IVR use and customer satisfaction, said such mental shutdowns are commonplace.
"From a human factors standpoint, problems [like having too many options] have a tendency to erode the caller's short-term memory," Margulies told CRM Buyer. "If you exhaust the caller's memory, they tend to make menu selection mistakes, or they will ask for operator assistance because they become confused."
Ussher recommended that whenever an IVR system offers more than three choices or more than three levels, it should offer either an easy-to-follow speech-recognition engine that works in a question-and-answer mode or the ability to talk with a real person. If the system uses a speech-recognition engine, it should confirm a user's choices every two or three answers.
2.) (Don't Like) Starting Over
A real-world example perhaps can illustrate users' frustrations with IVR systems. Josh Einhorn, program director at Wise Adult Day Services in Santa Monica, California, is required to schedule appointments with his HMO during normal business hours. However, he also works during normal business hours, so setting up a physical for his son can be, at best, a trying experience.
"First, they ask whether I speak English even though they know I do from when I signed up," he told CRM Buyer. "Then they ask me my location, even though my records [indicate] my primary location. Then I'm given the choice of whether to make an appointment or leave a message, but obviously I'm making an appointment because you can only make one during business hours. If I want to make an appointment, I'm put on hold, but I'm at work, and if I have to take a call or take care of a problem, I have to hang up before I can make that appointment.
"Then I have to start over, through all those layers again," he added. "Even if I know the codes, I can't jump ahead. I have to wait until they've gone through the prompts again. I'm ultimately put on hold anyway, and ultimately I'm out of patience."
Ussher said many companies fail to respond to caller frustration because they do not track reports that log and summarize each call. "That's why there's often no accountability," she said. "They don't see how many calls are completed in reports, how many people either hang up or [defect] to an operator. They just see that calls to customer service are down, not recognizing the reasons behind that."
3.) Inconsistent? And No Operator?
Inconsistency may well be users' biggest pet peeve with IVR systems, perhaps because this flaw encompasses so many areas.
Schoeller cited numerous examples of the inconsistency bugaboo, including sudden "voice changes" in which the automated voice inexplicably switches genders; systems that alternate between the "#" sign and "1" for confirmations; and the inability to press "0" for operator. Often, users find themselves in what is known as "voice-mail jail," in which they are, for example, told to press "3" but then are led nowhere, with no option but to hang up and start over.
Schoeller attributes such inconsistencies to poorly programmed systems. Although some systems are poorly designed from the get-go, he noted that companies often fail to properly maintain and upgrade their IVR technology. For example, perhaps professionals installed the original system, but an emergency change was needed, and Marge or Bill from IT patched it without taking usability into account.
Stopgap Solutions
EIG's Margulies said that to implement and maintain IVR systems that strike a balance between automation and high-quality customer service, organizations must make a commitment to best practices by performing a basic audit of their IVR systems; understand what motivates customers to call into such a system so that they can better organize their menus; and, most importantly, test new interface designs with real customers to see how they work in a real-world setting. In addition, companies should commit to conducting periodic audits and quality checks so that systems do not drift from the optimal design.
What about those beleaguered customers calling into systems run by companies that have yet to follow Margulies' advice? Meta Group analyst Ussher recommended a few "queue busters."
"Say 'agent' to talk to a live person," she said. "Press 'sales' or 'reservations' to get right through, though you do risk being transferred. And write or e-mail customer support and tell them their service isn't working. Or better, contact their PR or marketing — they tend to respond right away."