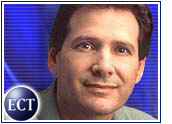 With an eye toward focusing on its core businesses, Priceline.com (Nasdaq: PCLN) said Thursday it has fired 48 workers, shelved plans to expand into Japan, and indefinitely postponed new product introductions.
The job cuts, which represented 11 percent of Priceline's workforce, came a month after 87 other workers were let go and leave the firm with about 400 employees.
Priceline also postponed plans to expand its name-your-own-price model into other areas, including a business-to-business service, cellular phone plans and life insurance. The Norwalk, Connecticut company said it willfocus on its core offerings of airline tickets, hotel rooms, rental cars, home finance, long distance and new cars.
Profits the Goal
"Priceline remains committed to building a profitable business with high customer satisfaction and long-term growth potential," president and chief executive officer Daniel H. Schulman said. "We are re-focusing all of our efforts on achieving profitability with our core businesses."
Schulman said the company will also undertake a "major new TV advertising campaign" during the first quarter of 2001. "We are excited about next year," he added.
The company, which announced plans to revamp its Web site and move to improve customer service, said it will take an undisclosed fourth-quarter charge for the restructuring.
Japan Push on Hold
Meanwhile, a plan to launch a version of Priceline's name-your-own-price e-commerce platform in Japan has also been shelved.
Priceline and Japan-based incubator Softbank had announced in July that negotiations were underway for the two companies to open the site as a joint venture focusing first on airline tickets and hotel rooms.
On Thursday, however, the firms said no formal agreement could be reached and that talks had broken off.
Glimmer of Good News
Priceline did score a legal victory Wednesday, though not a knockout, when a federal judge threw out most of a case charging trade secret theft. A San Francisco company, Marketel International, claims that the Priceline service, now patented, is based on that firm's business methods.
The judge, however, refused to dismiss a portion of the suit claiming that Priceline falsely promoted its invention of the consumer-bid business model.
Business Woes
Once a high-flying darling of e-commerce and still among the most recognized names in the industry, Priceline has been grounded by a combination of factors, from the failure of some attempts to expand into new markets, to the departure of several high ranking executives, to a nose-diving stock price.
In early October, Priceline licensee WebHouse Club, which offered consumers the chance to name their own price on groceries and gasoline, shut down operations, as did Perfect Yardsale, a year-old subsidiary that never took off.
In November, chief financial officer Heidi Miller, whom Priceline had lured away from Citigroup in May, and Maryann Keller, who headed Priceline's automotive services wing, resigned their posts.
Meanwhile, Priceline shares, which traded as high as US$104 during the past year, have lost 98 percent of their value since the Nasdaq sell-off began in April.