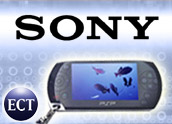 Bolstered by comments from Sony Computer Entertainment (SCE) President andCEO Ken Kutaragi and the announcement of an official release date for the game "Untold Legends:Brotherhood of the Blade," the gaming world is abuzz with word thatPlayStation Portables (PSP) will be available for sale in the United Statesand Europe in March.
Sony released the PSP, its first entry into the hand-held gaming market, onDecember 12 in Japan and said it has sold 510,000 units. The company saidBrotherhood, a multi-player action game, will be released "at the PSP'slaunch in March."
The PSP's release trails that of the Nintendo DS, whichcame out November 21 in the United States and December 2 in Japan.
Nintendo Gets Jump on Sales
Nintendo has sold about 1.5 million units of the dual-screen players and isincreasing its projected sales figures. Sony said it hopes to sell 3 millionPSPs by March 31 but admitted that will be a tough target to reach, partlybecause of semiconductor shortages.
"The launch of Nintendo's DS was a success," Jay Horwitz, senior analyst atJupiter Media, told TechNewsWorld. "PSP has some more substantialchallenges. One of them is battery life. A portable device that's dedicatedto gaming has to have enough juice to get through some intensive sessions.The report is that the battery life is not there."
But Michael Cai, senior analyst at Parks Associates, said he thinks Sony istargeting a different audience from Nintendo. He said Nintendo's Game Boyand DS are aimed at a younger group — preteens and teens — and that Sonyis looking at young adults.
"The PSP is sleek and doesn't look like a kid's toy," Cai toldTechNewsWorld. "It has very good graphics and the screen looks awesome. Ithink it's going to be well received."
Lower Than Expected Price
He called the price point surprisingly low, saying Sony originally talkedabout a US$300 price tag, but is selling the unit in Japan for 19,800 yen, orabout $190. Nintendo's DS costs $150. Cai said Sony was replaying the strategyit used with the PlayStation 2 — selling the hardware cheaply and relyingon profits from game sales.
One big factor in capturing the young adult market could be the PSP'sability to play video and audio files, Cai said. PSP uses Sony's proprietaryUniversal Media discs (UMD) for storage. The unit will play MP3s and MPEG4s,but files must be stored on UMDs.
To play files not on the miniature UMDs,consumers would have to buy software to convert it to the MPEG-4 videoformat that the PSP and Memory Stick support. Both Cai and Horwitzquestioned whether a proprietary storage format was the way to go.
Is It Worth It?
Horwitz was also less enthusiastic about the multimedia function."Is it [music and video playback] something people really want and arewilling to pay for? How well are they executing on video and audio whenthey've gone with a proprietary format?" he asked.
One other roadblock for Sony is that Nintendo DS is backward compatible withits GameBoy Advance format, while anyone who buys the PSP will have to startfrom scratch.
"Sony does have a rich catalog of content available, but how easy will it beto port it?" Horwitz questioned.
There will be more than a dozen games available when the PSP hits the U.S.market. They reportedly will range in price from $24 to $46. The PSP is alsoWiFi compatible and links to a computer through a USB 2.0 port.