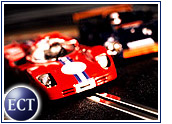 Hours after saying it had made an offer for the assets of bankrupt e-tailer eToys, children's book publisher Scholastic (Nasdaq: SCHL) announced late Monday that it would not submit a bid after all.
The company said that it "concluded that the acquisition of selected eToys assets did not meet Scholastic's threshold for accelerating or reducing the costs of its Web initiatives."
Scholastic said that it had been evaluating the possibility of purchasing "selected assets of eToys in the bankruptcy auction, focusing on the potential of eToys technology to accelerate and reduce the costs of Scholastic's own Web initiatives."
Earlier Monday, Scholastic had confirmed making a conditional bid of approximately US$8 million for the eToys inventory.
Although Scholastic did not reveal whether or not it had the winning bid, eToys attorney Howard Steinberg, a partner in Irell & Manella LLP, told the Wall Street Journal that Scholastic's bid of 30 cents on the dollar was the highest of over 30 bids received for the failed e-tailer's inventory, which includes toys, books, videos and other children's products.
Conditional Bid
Reportedly, Scholastic's offer was contingent on its winning a bid for all outstanding shares of eToys stock. The company did not comment on whether it was planning to purchase the eToys name.
In order to maximize its take from the auction of its goods, Los Angeles, California-based eToys offered bidders the chance to purchase assets separately, including warehouses, inventory, office equipment and intellectual property.
Alternatively, interested parties could purchase all of the outstanding stock in the company and obtain at least a portion of the assets and the company's database of 3 million customer names.
eToys filed for bankruptcy in U.S. Bankruptcy Court in Delaware on March 7th.
Toya Paranoia
Launched in 1998, eToys' meteoric rise soon made it one of the most recognizable names in cyberspace. Even though it lost money throughout 1999, eToys' star continued to rise and the company inked partnership agreements with heavy hitters such as America Online, Discovery Toys and the Gap. eToys also decided to go international and launched a European site in August 1999.
However, red ink continued to spread across eToys' balance sheet in 2000 and investors began to dump the company's stock.
Santa Didn't Come
eToys' last hope was a miracle holiday season, but on December 15th, the company said that it would miss revenue estimates for the third quarter and that it planned to cut its workforce to conserve a dwindling cash supply.
eToys laid off about 700 workers, or 70 percent of its workforce, in January. The following month, eToys announced that it would wind down operations and lay off its remaining employees by the beginning of April.