Q4OS has the potential to become a new attention-getter among up and coming Linux distros.But this distro has a way to go before its development reaches full functionality. Right now it is working its way to a non-beta version 1.0 release. New beta versions are frequently released, often a few weeks to a month apart. The latest release was version 0.5.25 on February 4.
Q4OS is a Debian-based Linux distribution aiming to offer a classic-style user interface and simple accessories that provide stable APIs for third-party applications such as Chrome, VirtualBox and other development tools.
This new distro is fast and runs extremely well on low-powered aging computers. Its design pushes classic style in a modern user interface in a new direction. Q4OS has superb performance on new computers and is suitable for virtualization and cloud use.
I stumbled on Q4OS when tracking down distros that use the Trinity desktop environment. Q4OS is somewhat similar to Exe GNU/Linux, which also uses the Trinity desktop. Both Q4OS and EXE are still in their infancy. Q4OS has a more rapid and current release cycle. EXE Linux's last release was November 25, 2014.
The combination of Q4OS's design and customization gives it a noticeable edge over other upstart distro newcomers. It lacks a live session CD, so I had to fully install it on an old test laptop. The test computer's BIOS does not support USB drive booting.
I actually get the full Linux experience with Q4OS on my underpowered old test computer. This says a lot about Q4OS's potential. Other than older versions of Puppy Linux, nothing else runs well on this particular memory and CPU-starved machine.
Trinity Overview
My primary interest in Q4OS began with the Trinity desktop. I played around with it daily for more than two weeks. It was forked in 2008 from the last official release of the K Desktop Environment's third series (KDE3), version 3.5.10.
The Trinity desktop is now a project in its own right. The Trinity community planned on charting an independent path separate from the K Desktop Environment (KDE). So far, much of the documentation and logo of the Trinity desktop is still very much KDE.
I was somewhat disappointed with the Trinity desktop. Trinity is little more than a KDE environment gone lightweight. I mean really lightweight. Since the Q4OS developers are positioning this new distro for custom development and business flexibility, I wonder why they did not use more flexible desktop options like Xfce or LXLE.
First Impressions
Q4OS is available in both 64-bit and 32-bit versions. Minimum basic hardware requirements include a 300 MHz Pentium, 128 MB Ram and 3 GB of hard drive space. My test laptop is outfitted with an AMD Tourion 64 processor, ATI Radeon 200M Express Graphics and 128 MB Ram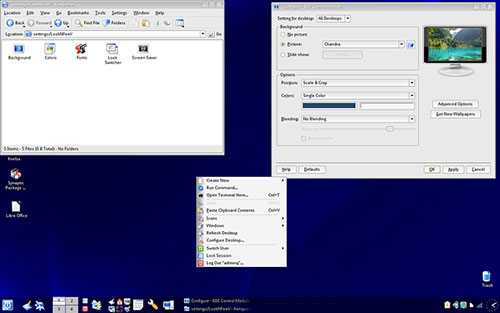 The Trinity Desktop is a very lightweight forkof the K Desktop Environment's third series (KDE3).
Trinity and Q4OS ran quite well together. The operating system is very stable. Applications loaded almost as fast as the in-memory installs of Puppy Linux or desktops like Xfce.
What is not built into the Trinity desktop is the bulk of the configurability and eye candy tweaking that comes in a full KDE installation. The Trinity desktop also lacks desktop applets — at least the Q4OS implementation has none of that functionality at this point. Very little animation and no keyboard shortcuts are available, for example. These two functions are among the very useful adornments available in KDE.
I was pleased to find that Q4OS, even in its very early version, had firmware for many Broadcom wireless devices. I was able to connect to my wireless router right out of the box. Q4OS automatically recognized the BCM43 hardware.
Look and Feel
Given its lack of features, the Q4OS desktop interface doesn't seem very different from Xfce or Openbox. Plus, the menus are poorly organized. For example, system tools and applications seem to be scattered in various menu categories with little logic applied.
Q4OS boots into a relatively plain jane desktop view. It is very reminiscent of Windows 2000 Professional and KDE 3.
The installed base distro-specific applications are very slim. The skimpy software collection includes a file browser, console/terminal program, admin tools in the control panel and network connections.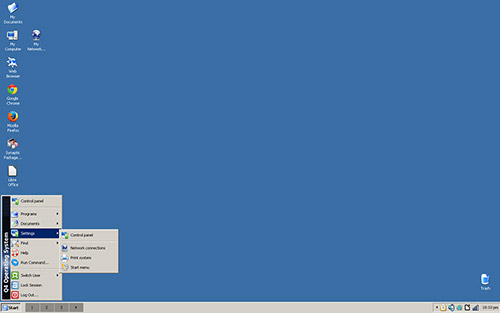 Q4OS looks much like Windows 2000 Professional and KDE 3.
Actual computing programs leave much to be desired. What is provided at this stage of development is the typical KDE software line. This includes a messenger app, Ktorrent for downloading, the Konqueror web browser, a PIM and the Kwrite text editor.
Installing It
Q4OS is not at a development stage that Linux newcomers should attempt. There is no live session to try or installation icon to click to install it. The downloadable ISO file burns to a bootable CD to start the computer and get permission to install to the hard drive.
No graphical installation routine is available, only the text-driven Debian menu installer. This is doubtful to change, since Q4OS is a custom Linux distro that serves as a platform for installation of business-based open source applications by resident IT staff.
The installer lacks any automated hard drive partitioning tool. So if you plan to share the hard drive with another operating system, you will need a tool like GParted. Otherwise, I had no trouble installing Q4OS.
This custom install lacks the usual first run setup routine provided in most other Linux installations, so be sure not to ignore the prompt at the end of the installation to create a root password. Otherwise, you will not be able to log in. Adding your password sets up an administrator account with Super User or sudo rights.
System Set Up
If you want to give this Linux distro a serious trial run, download the half dozen Q4OS applications on the download page. Installing them is quick and simple. Just download the desired files and double click within the file manager. Then follow any setup instructions.
Additional software includes installers for Chrome and Firefox browsers, Thunderbird mail and messaging client, and LibreOffice office suite.
Other options include DebApps [external] to manage and install applications from Debian repositories, Wine to install and use native Windows applications, and Look Switcher to switch between the modern and classical user interface (though I did not see much difference between the two views).
The default Network tool is clumsy at best. Download the Network Manager for an easy way to manage wireless networks. A few more installer files are available for setting up VirtualBox Guest Additions, an Application Server/Client and the Q4OS Development Pack. This last item is for IT pros and software developers who want to create or adapt packages for Q4OS.
Missing Pieces
A distro-specific repository and package manager is planned down the developmental road. For now, there is no system maintenance tool and no community software repository. So make sure you download and run the deb apps installer for the Synaptic Package Manager and the Top Applications installer. This will give you the ability to build your own software collection.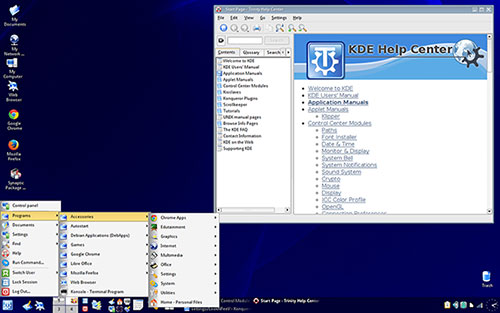 The Q4OS help screen for the Trinity Desktop is a branding mashup with the original KDE3 documentation. The main menu is poorly organized.
One big annoyance is the way programs install. Some of the system files that I added failed to appear in the Q4OS menu. They did not show up on the flimsy search utility either. I resorted to installing Synapse using the Synaptic Package Manager just so I could locate and quickly load all of the files on the system.
Bottom Line
The name of the developer(s) is not publicized on the Web site. But clearly Q4OS is intended to be more than a community-supported general purpose Linux distro. The Web site makes requests for developer support for creating Q4OS-specific applications. The site also invites businesses to make use of Q4OS.org's commercial support and software customization services.
The Trinity desktop provides a lightweight KDE environment and the Q4OS platform shows strong potential for business use. It could provide an interesting alternative for home and small business use when its developers add the missing pieces between the current beta progress and a 1.0 (and beyond) release history.
As it is now, you can update to newer versions as they are released, or just add the software packages you want for a do-it-yourself computing package.
Want to Suggest a Review?
Is there a Linux software application or distro you'd like to suggest for review? Something you love or would like to get to know?
Please email your ideas to me, and I'll consider them for a future Linux Picks and Pans column.
And use the Talkback feature below to add your comments!