"Master data management" is a buzzword that is catching the fancy of CXOs. Many organizations have jumped onto the MDM bandwagon and are now at various levels of maturity when it comes to implementation of the MDM hub.
So what is MDM? How does an MDM implementation happen?
Master data management provides an overview of reference entities in an organization — your customers, products, accounts or locations.
Each of these reference entities is a master data domain and is usually referenced in your transactional process.
The highest maturity level in an MDM is typically the strategic level, and this highly elusive state cannot be attained using a big-bang approach.
The best recommendation, then, to achieve the "true strategic" level is to use a phase-by-phase approach, and many vendors have proposed a rapid deployment framework.
Infosys has already used this approach for implementing an MDM hub; based on this reference implementation, I am now proposing a new phased-implementation approach: the R-A-CE framework.
Master Data Management: A Phased Implementation
The R-A-CE approach (Registry, Adaptive and CEntralized) uses an MDM solution to help create a direct path to business value, in order to meet the challenges of a more instrumented, interconnected and intelligent planet.
Realizing these benefits and maximizing the return on investment often requires an organization to change the way it does business.
MDM deployments require a "quick-win" — that is, snatching the low-hanging fruit. The Infosys rapid deployment framework called "R-A-CE" helps to accelerate deployment, reduce cycle times, maximize ROI, and minimize risk.
R-A-CE represents a phased approach that compliments all variations of COTS MDM solution deployment.
The diagram below shows what the R-A-CE approach has to offer.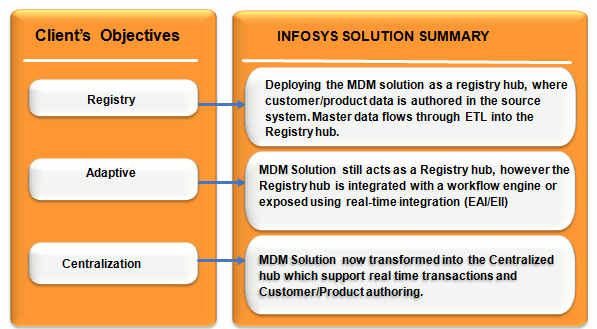 R-A-CE Methodology Overview
Before delving into what the R-A-CE methodology is all about, it is essential to utilize PMI inputs, tools and techniques, and output measurements to evaluate what the R-A-CE methodology has to offer.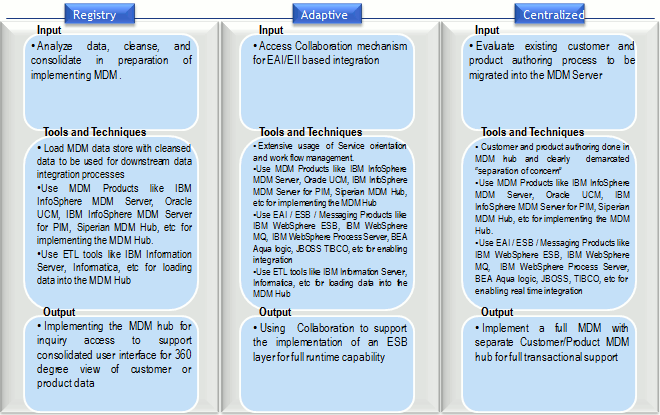 Registry Phase
In the foundation phase, the MDM application (be it customer data hub or product data hub) is introduced as a reference hub. This is usually done by migrating data from the legacy application through an ETL toolset into the respective MDM hubs. During this phase, the quality of data is evaluated by the data stewardship community, and the data is cleansed using internal MDM UI screens.
A representation of this phase is shown below.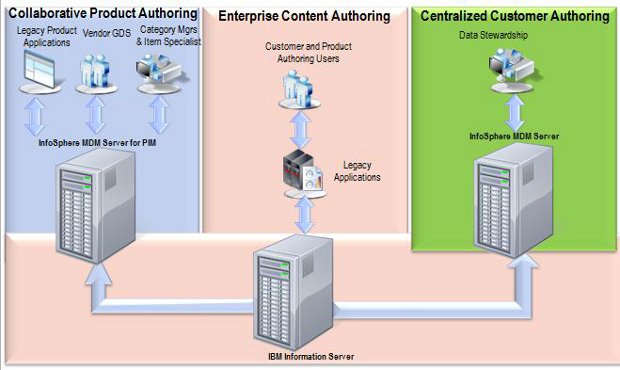 Adaptive Phase
In the augmentation phase, the MDM application is slowly exposed to the critical application, and on-boarding of the existing core application through the EAI/EII layer takes place. An enterprise-wide representation of the customer and product is leveraged by the core application to facilitate multichannel commerce or a common customer-centric experience.
A representation of this phase is show below.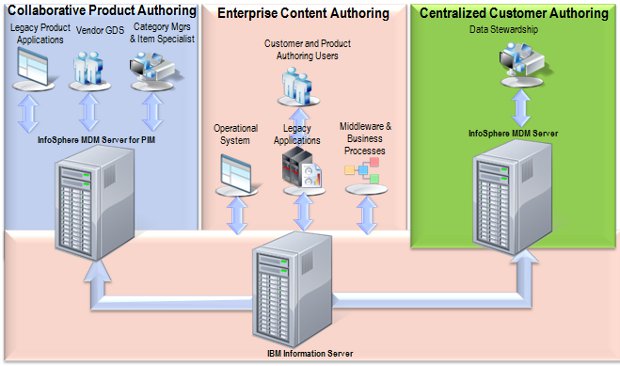 Centralized Phase
During the final adoption phase, the MDM application operates in a centralized manner, so that product or customer authoring happens centrally. This is realized or achieved through real-time data publication or through a data federation process, so that the benefits of a truly integrated application portfolio help to provide a single 360-degree view of the customer, as well as a centralized product catalog driven by deep insight into customer management, product management, merchandizing and supply chain management.
A representation of this phase is shown below.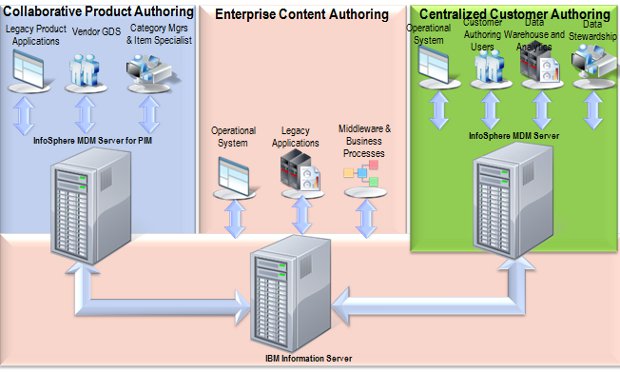 Benefits of R-A-CE
The critical benefits of the R-A-CE implementation approach are listed below:
helps to accelerate deployment, reduce cycle times, maximize ROI and minimize risk;
represents a phased approach that complements all variations of COTS MDM solution deployment;
allows smaller project footprints, lower costs, and real business value achievement with each phase;
helps to have tollgate review of the MDM implementation in order to measure achievable value before the next stage; and
Reduces risk: by spreading hardware and license costs across phases that can be implemented separately or together.
Challenges of R-A-CE
Although the benefits of R-A-CE are clear, there are challenges to meet in implementing this methodology:
MDM maturity assessment has to be performed up front;
Product and customer data quality must be assessed up front to evaluate how the various phases have to be staggered;
Complex product hierarchy/catalog management or house holding/grouping requirement for customers may need to be pushed to subsequent phases as applicable.
R-A-CE provides the Strategic level (level 5) maturity that an organization needs to achieve its MDM implementation.
R-A-CE Case Study
Any methodology offers value if — and only if — it has been applied for a full MDM implementation. I would like to cite the example of an MDM implementation done for a major U.S. manufacturer that uses phase-by-phase approach that aligns with the principles of R-A-CE methodology.
Phase 1 — Registry model where the customer authoring was done in legacy application and the customer hub implemented as registry model
Phase 1.1 — Adaptive model where the customer authoring was integrated in real-time with the customer hub leveraging EAI extensively
Phase 2 — Centralization model where the customer authoring can take place in the customer hub and real-time synchronization can be achieved between the upstream and downstream applications.
A representation of the end state architecture of the MDM implementation shows how R-A-CE methodology has been adapted in essence.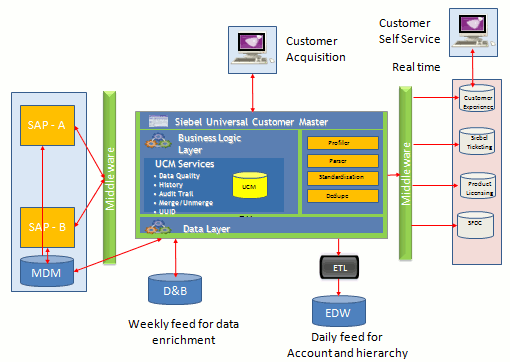 Summing Up
Any enterprise solution that utilizes MDM principles can be implemented using multiple approaches. However, the methodology that allows achieving "vision to value" at a faster rate is the one that needs to be adopted.
At the time of writing this article, I have evaluated multiple methodologies with respect to the way MDM projects are delivered, but no single methodology articulated the value delivered by the R-A-CE approach.
---
Jairaj Asok Kumar
, is a lead consultant in MDM at
Infosys Technologies
. He has more than a decade of IT experience, and has managed large engagements for diverse clients in the U.S., UK and EMEA. He blogs at the
Infosys Blog on CRM
.