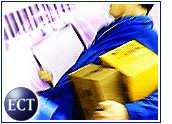 Although online retailers spent heavily last year to avoid the fulfillment and delivery difficulties that bedeviled Internet heavyweights and fledglings alike over the 1999 holiday season, a report released Monday found that these problems continued to haunt many Web merchants in 2000.
According to the second annual U.S. E-Fulfillment study from Accenture (formerly Andersen Consulting), 67 percent of deliveries that were placed during the recent holiday season were not received as ordered and 12 percent had not been received in time for Christmas.
The report also found that 7 percent more Web sites operated by traditional retailers and mail-order catalogers delivered orders in time for Christmas than did pure play e-tailers, which also did a poorer job of simplifying the return process.
These figures stand in contrast to a report released earlier this month by Nielsen//NetRatings and Harris Interactive, which said that Internet-only retailers scored higher among consumers in terms of customer satisfaction than their brick-and-click counterparts, accounting for 7 of the top 10 sites in customer satisfaction.
To compile data for its study of fulfillment issues, Accenture researchers placed about 600 orders between November 27th and December 4th at nearly 100 different Web sites operated by traditional retailers, pure plays and mail-order catalog companies.
Predictability Counts
While communication with e-shoppers significantly improved from 1999 — shipment confirmation increased to 45 percent in 2000 from 21 percent the previous year, for instance — Accenture said the most common shortcoming was the lack of a promised delivery date.
"Companies often provide minimal and vague delivery information, either because they aren't confident of their ability to keep a promise, or because they fear the consumer will balk," said Accenture associate partner Robert Mann, who authored the report.
Mann noted that if online retailers had given a lead time of 10 days, more than three quarters of the orders would have been considered on time.
"Though some consumers want speed and they should have that option, most consumers seem to want predictability even more," Mann said. "That means companies need to make a delivery promise for each order, and then keep it."
Revamping Returns
The study also found that across the board, online retailers need to do a much better job of managing the return process.
Although brick-and-click firms and catalogers have eclipsed their pure-play counterparts in this area, Accenture said they still need to better integrate their online and offline return policies. Less than 60 percent of retailers allowed items purchased online to be returned at the store, and 40 percent of that group did not uniformly allow the practice, creating confusion for consumers.
The study said "clarity of communication and uniformity in policy execution" are necessary to minimize such confusion and frustration.
Return to Sender
Another "significant difference" between e-tailers and traditional retailers involved the time it takes for consumers to return merchandise.
For pure plays, Accenture said the process was more time consuming and complex, due in part to the fact that many failed to provide the tools to expedite the return process. For instance, the study found that only 51 percent of e-tailers supplied preprinted labels, which were provided by nearly 80 percent of retailers and catalogers.
E-tailers also created a longer return process by requiring lengthy preapproval requirements on more than 60 percent of their returns, nearly twice as often as catalogers (17 percent) and retailers (29 percent). Accenture said many e-tailers failed to factor overnight or weekend delays for returning e-mails and phone calls into the return processing time.
On a positive note, Accenture said more e-tailers have begun offsetting the complex returns process by paying for return shipping costs and refunding original shipping costs more often than retailers or catalogers. However, room for improvement in this area does remain, said the study, because prepaid return shopping was seen in less than 30 percent of all returns, and original shipping cost refunds were offered only 12 percent of the time.
Upcoming Shakeout
The report concluded that the best overall e-tail performers were large companies that had more than US$100 million in Internet sales volume. Firms in this category often exceeded the study averages in several areas, including order time, inventory availability, e-mail confirmations and on-time delivery percentages.
"Advantages in fulfillment execution and performance are more difficult to build, and only a select few have it right," said Mann. "Performance is improving at a rapid rate, but mostly for those with significant access to resources."
Accenture said the upcoming year will prove to be a test for underperforming and underfunded companies, which will need to fix their problems in order to survive, as well as capable mid-sized firms, which will have to prove they can compete with large, established retailers as they continue to pour resources into their operations.
"Chances are, many companies won't be able to keep up and we will continue to see a steady shakeout and, above all, consolidation in this space," said Mann.