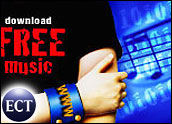 Young people in Europe are three times more likely to illegally swap songs than they are to download them from legitimate sites such as Apple's iTunes Music Store, according to new data that suggests the music industry has yet to solve its lingering digital conundrum.
Jupiter Research said file-sharers outnumbered those who paid to download music by a margin of three-to-one. In addition, a third of all 15- to 24-year-olds have illegally shared copyrighted music at least once.
Though the report focused primarily on the UK and European markets, analysts say it holds important lessons for the music industry as a whole and serves as a reminder that extensive work remains to replace illegal file-sharing with legitimate download options for good.
Jupiter analyst Mark Mulligan said the high-profile victories for the music industry against the likes of Grokster and other P2P sites are only driving users further into the Web underground, or to other means. For instance, the research found that 43 percent of young consumers would rather copy a friend's compact disc than buy their own.
"By its very nature, music file-sharing can't be stopped down by taking out a single entity," Mulligan said. "Users simply move to other networks to stay ahead of the music industry."
Giving It Away
Mulligan said the problem in Europe in particular is that young people have become accustomed to having nearly unlimited access to free digital music. That culture has become so ingrained that users see little benefit — beyond avoiding lawsuits — to moving to legitimate sites where they have to pay.
Because young users are critical to the music industry, record labels still face a crisis if they are not able to convince more of them to abandon illegal swapping.
"Unless the music industry can transition these consumers whilst they are young away from free consumption to paid music formats, be they digital or CDs, they may never develop music purchasing behaviour and the recording industry could suffer long-term harm," Mulligan said.
One reason the industry has been slow to evolve, analysts say, is that they are reluctant to encourage free music, even though some studies show that giving away songs can encourage purchasing of music.
Conflicting Data
The talk of a continued crisis seems to fly in the face of some recent positive news for the music industry.
Its most recent win came when it reached a settlement that resulted in the shutdown of peer-to-peer network Grokster, which had emerged as a next-generation heir to the legacy of Napster — which the industry also shut down with legal action. But Mulligan said while the industry touted that win, Grokster was never one of the most significant swapping sites in terms of volume, especially for music.
Meanwhile, Apple's iTunes has continued to grow rapidly, with other sites, such as the new Napster and RealNetworks' subscription offerings also catching on with consumers and more legitimate options being rolled out all the time — including options to have songs downloaded or streamed to mobile phones and other hand-held devices. .
But various reports have suggested that while lawsuits may scare away some casual file-sharers and despite the rise of iTunes and other sites, those hooked on swapping songs will continue to find new venues to carry it out.