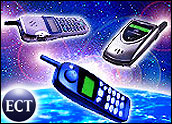 Coming off its best year ever in terms of sales growth, the mobile handset industry is set to see slowing rates of expansion going forward as established markets become saturated with cell phone users, according to a new report.
Research firm IDC said mobile phone shipments grew 34 percent in 2004 to a record level of 692 million units, as buyers gobbled up handsets with color displays and those with additional features such as built-in digital cameras.
IDC predicts slowing growth starting this year and "increasingly complex market conditions" in coming years. Other firms have pegged this year's growth rate at 10 percent or even single-digit expansion.
3G Adoption
Longer-term, the widespread rollout of 3G or third generation networks in established markets could light a fire under sales of handsets once again.
However, even with only modest growth, the industry is still producing significant expansion of cell phone use, enough to ensure strong growth in the adoption and sales of wireless services and mobile commerce features such as streaming music, mobile downloads, ring tones and even streaming video.
"The underlying foundation of the mobile phone market is sound, but limited catalysts for 3G adoption will create complex market conditions over the next few years," said IDC research analyst David Linsalata. "The market will continue to expand through 2009, however, offering a significant opportunity for hardware, software and service vendors alike."
IDC says there currently are some 1.7 billion wireless subscribers worldwide and that by 2009, some parts of the world will reach near full market penetration, forcing the industry to make additional adjustments in order to continue to foster sales growth.
Shifting Sands
Amid the slowdown in growth, the handset industry is already roiling with change, with shipments of so-called smartphones rising more than 80 percent in the first quarter, according to one recent report. Those devices still make up a relatively small percentage of all mobile phones in use, but that is expected to change over time as more users adopt multi-function devices.
That evolution is being fostered by handset makers, who are focusing heavily on rolling out upscale smartphones that can send and receive e-mail and instant messages, take and send digital photographs and video, and download and stream digital music.
Those smartphones are seen providing important profit margin protection for wireless handset makers, who have been locked in a price and feature war for some time.
Independent telecom analyst Jeff Kagan told the E-Commerce Times that some companies might struggle with the slowing growth, especially since some handset makers, such as Sony Ericsson, have struggled to grow profits and sales even amid the boom in the industry.
"The wireless industry may be growing like crazy in recent years, but that does not mean every company in the wireless space is doing well," he said. "We're already seeing handset makers position for dominance in the smartphone market."
At Your Service
While analysts predict sales of mobile handsets will slow, virtually all forecasts call for the services provided to them to continue to boom, forecasts that are not being scaled back. In fact, some say that one way to look at the recent surge in cell phone sales is as the foundation for a robust wireless services marketplace for years to come, with the coming slowdown a sign of market maturation or even saturation.
Kagan said that mobile carriers have already begun to look beyond providing basic voice service, now that fairly reliable service is a given among most consumers, and are finding willing audiences on a number of interesting fronts, from song snippet downloads that double as ringtones to interactive gaming. "Now that the wireless phone signal is becoming very good, the companies are looking for new reasons to stand out among competitors," Kagan said.
Figuring out what users want, however, and how to deliver it to them, will likely require a period of trial-and-error before that market truly takes off. There are cutting-edge versions of some available, such as mobile video service offered through Verizon Wireless, but few users will adopt such services early on and many will be unable to do so until networks are upgraded to deliver them efficiently.
"Wireless marketing is growing far beyond the quality of the phone call and going toward all the extras that the cell phone represents," Kagan added. "The cell phone is becoming the third screen along with the television and computer. The cell phone is going to become an amazing marketing tool in coming years."