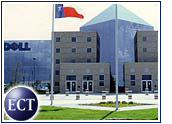 Adding to the mounting evidence that the personal computer market is still in a slump, new figures released Friday showed that "sluggish"sales over the fourth quarter and a weakened economic outlook helped dragthe industry down in 2000.
According to preliminary estimates from Gartner-owned research firm Dataquest, worldwide PC shipmentstotaled 134.7 million units in 2000, an increase of 14.5 percent over theprevious year, while domestic sales saw a modest 10.3 percent bump,representing 49.4 million units, in 2000.
The year 2000 figures stand in markedcontrast to 1999, which saw record sales growth of 21.7 percent.
Although strong demand for PCs in both Asia and Latin America fueled global sales,Dataquest found that last year's worldwide growth rate lagged far behind the 23.3 percent increase registered in 1999 and even fell short of the 15percent to 16 percent gain posted in 1997 and 1998.
A report released earlier this month by PC Data found that PC sales fell 24percent in December from a year earlier, a fifth consecutive year-over-year decline.
Reasons for Fall
These decreases of the increases can be attributed to the convergence of a number offactors, said Dataquest.
"The downturn in growth is concrete evidence that saturation in key segmentsis playing an increasingly important role in overall market growth, with newshipments unable to mask the effects of economic cycles on replacementbuying," said Charles Smulders, analyst for Gartner Dataquest's computingplatform worldwide group.
In addition, Dataquest said the slowdown of the economy has dampenedpurchasing enthusiasm.
"The timing of the economic downturn was unfortunate for the industry in thesense that it coincided with the largest home sales quarter, a segment thatis typically the fastest to respond to economic uncertainty," said Smulders.
Smulders also said that estimates point to a weak professional market performance as well.
Dell, HP Outperform
The report found that Dell and Hewlett-Packard were the only top-tiervendors to experience growth rates above the industry average both worldwide and in the U.S. last year.
According to Dataquest, Dell's sales spiked 26.9 percent worldwideand 29.8 percent in the U.S. The company's global sales totaled 14.5 millionunits, for an overall market share of 10.8 percent.
By comparison, Compaq,which held a 12.8 percent share of the global PC market, increased annualsales by only 8 percent over 1999, shipping 17.2 million units.
For its part, Hewlett-Packard shipped 10.2 million units worldwide, holdinga 7.6 market share and boosting its overall growth rate by 34.7 percent.This increase was echoed in HP's U.S. figures, which showed that it capturedan 11.4 percent share of the domestic market and lifted its sales by 43.2percent from 1999.
Staying Aggressive
Dataquest said that Dell's aggressive pricing strategy during the fourth quarter contributed to its success, while Hewlett-Packard continued to leverage its strong consumer franchise and solid support of the retail channel.
Despite Dell's growth, the company's fourth quarter and fiscal 2002 earningsestimates were slashed last weak by Bear Stearns analyst Andrew J. Neff, whosaid the computer maker would not be able to outrun the overall industry slowdown.
In a report to clients, Neff said his weaker profit outlook reflects "lowerdemand in the U.S. and Asia" and the built-up inventory of unsold personalcomputers held by rivals, which could lead to discounting.
Similarly, Hewlett-Packard warned last week that deteriorating business and consumer demand would hurt its profit and revenue in its the quarter endingJanuary 31st. In addition, Gateway announced plans last week to cut its workforce by nearly 13 percent after the PC maker released earnings that fellsubstantially short of a previously revised forecast.
Grim News for IBM
Industry giant IBM did not fare as well for the year, Dataquest found. The industry giant was the only major PC maker that saw a negative growth rate both worldwide and in the U.S.
Globally, the company's sales dipped 1.8 percent, representing just a 6.8 percent market share. It was much harderhit in the U.S., with sales plummeting 18.7 percent and capturing just a 5.4 percent market share.
Earlier this week, IBM barely exceeded fourth-quarter estimates, reportingearnings of US$1.48 per share, compared with $1.12 during the same period ayear earlier. The report barely met expectations, as analysts were predicting $1.46 per share.
Silver Lining
Although lowered growth rates during the fourth quarter were "disappointing," Dataquest said that the trend does ease fears of inventory overhang goinginto the first quarter of 2001, particularly in the U.S. retail market.
"This is better news for the industry, both because it suggests that vendors were able to take some action to stem and reduce the buildup evident in theearly part of the quarter, and the anticipated selloff of excess finishedgoods' impact on 2001 first-quarter shipments should be less pronounced,"Smulders said.