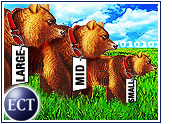 U.S. small- and medium-sized business (SMB) spending on enterprise software reached nearly US$1 billion during 2003, according to a report authored by Access Markets International Partners (AMI). This includes SMB spending on customer-relationship management (CRM), sales-force automation (SFA), enterprise-resource planning (ERP) and supply-chain management (SCM).
The just-released study, "2003 U.S. Enterprise Software Market Overview and Assessment," reveals that total U.S. business expenditures for CRM, SFA, ERP and SCM reached US$14.6 billion last year, accounting for more than a third of worldwide spending for such software. In contrast, large businesses spent about $13.6 billion on these categories of software.
AMI said that the study examined the enterprise software questionnaires from more than 1,450 IT decision makers from businesses of all sizes in the United States.
Staggering Growth
New York City-based AMI forecasts that enterprise-software spending by large businesses will increase only by 4.9 percent annually in the coming years. SMBs under 1,000 employees are expected to increase their spending at a 14.3 percent annual growth rate.
In an interview with CRM Buyer, Jackie Chan, senior analyst at AMI, said that this study was part of the consulting and research company's annual effort to survey small-, medium- and large-business markets individually.
However, "this is the only one focusing solely on enterprise software," she noted. "And the growth rate for medium businesses is staggering compared to that of the enterprise."
For his part, Chris Selland, vice president of supply-side research at Aberdeen, told CRM Buyer that he agrees that the SMB market is a big, mostly untapped space for enterprise software, with the CRM opportunity being a subset of this.
Large Businesses Saturated
According to Chan, the big-business market for enterprise software is largely saturated. She identified this market as companies with more than 1,000 employees.
"There's a trickle-down technology effect going on now. Large companies adopted enterprise software and, in a way, forced medium businesses to follow," she explained.
"Now that everyone's moving that direction, small businesses are the late adopters. SMBs are the next frontier of growth," she said.
Last year, Chan said that AMI's research showed that small businesses were focusing on Web sites and similar marketing efforts, while this year they seem more concerned with improving internal communications and, therefore, investing in intranet sites.
On the other hand, medium businesses with 99 to 999 employees spent money on enterprise software last year that they now are trying to integrate this year.
Channel Opportunity
"The channel opportunity here is for [independent software vendors] to help medium businesses integrate their software and for [value-added resellers] to help small businesses get up and running by providing both the hardware and software," Chan said.
Aberdeen's Selland said that it has been — and will continue to be — difficult for the companies that have been selling to the Fortune 500 market to scale down their solutions and business models. "The companies that will succeed are those that have a 'midmarket' mindset," he said.
Hosted Applications Popular
Historically, SMBs have been underserved by the enterprise software vendors, relying on homegrown solutions. Only about one in ten small businesses and one in four medium businesses deploy CRM or SFA solutions, and less than 5 percent of small businesses and roughly 20 percent of medium businesses use ERP or SCM solutions, the study disclosed.
AMI's Chan said that one surprise that the study exposed was that both small and medium businesses are turning to hosted applications because of the increasing availability of pay-as-you-go, on-demand technologies being tailored to SMB needs.
According to her, small-business hosted applications are expected to grow in the small-business market by 41 percent this year over 2003, and by 27 percent in the medium-business market. However, medium-sized businesses are adopting hosted CRM, SFA, ERP and SCM applications more rapidly than smaller businesses.
"This is the market where the hosted model poses the biggest threat to the traditional enterprise companies," said Aberdeen's Selland.
Heavy Hitter, Hockey Stick?
Steve Trotta, software analyst at Technology Business Research, told CRM Buyer that it is apparent that all the heavy hitters such as SAP, Siebel, PeopleSoft and Microsoft are targeting the SMB market as their next real growth opportunity for business applications.
"We are also seeing companies beginning to deliver hybrid solutions, such as hosted CRM and ERP along with an in house solution," he said.
He suggested that AMI might have underestimated the potential spending by SMBs on business application software, adding that annual growth rates could run 20 to 25 percent over present-day numbers during the next few years.
"What's clear is all major software firms and their partners are making major investments, and that signifies a substantial hockey-stick-like growth opportunity," Trotta concluded.