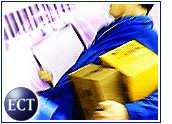 U.S. e-tailers have made major strides in improving the online ordering and delivery process, though Web shopping may be taking longer than in past years because consumers have more choices, according to the annual e-Fulfillment Report released Wednesday by consulting firm Accenture (NYSE: ACN).
In its third annual eFulfillment study, Accenture found that 98 percent of all online merchants confirm orders with e-mail notices, up from 81 percent in 2000.
Meanwhile, nearly twice as many e-tail sites now have the ability to confirm that a product listed for sale is in stock. This year, 72 percent of sites had that ability, compared to 38 percent a year ago.
Decisions, Decisions
U.S. e-tailers appear to be on the right track, according to Accenture. Last year, the firm found that 67 percent of orders placed online were not properly filled and 12 percent failed to arrive before Christmas.
While orders are taking just as long to arrive this year — an average of seven days — e-tailers have widened their shipping windows, making it less likely goods will arrive late, the firm said.
"E-tailers are padding their arrival estimates, like they did last year, making promises of 10 to 14 days for goods to arrive," said Bob Mann, associate partner at Accenture. "They are generally doing better than that."
Time Passages
Despite the improvements, it is actually taking longer to place orders at many Web sites, in part because e-tailers have expanded their product offerings. Typical ordering time in the study increased from 10 minutes last year to 13 this year.
That is still faster than most store visits, according to Mann.
"Online buying still has the edge on convenience," Mann said.
Overall, he added, pure-play e-tail sites "continue to be a bit faster than traditional retailers' or catalogers', reflecting apparently better Web-savvy designs."
Shipping News
Accenture found that e-tailers this year are less likely to offer free shipping. Two companies involved in the new study have made the offer, compared to 14 a year ago.
Still, shipping costs remained about steady, at about 15 percent of total product costs.
Meanwhile, European e-tailers are suffering many of the same growing pains experienced in the U.S. in 1999.
Across the Pond
Only 32 percent of European online merchants provide real-time in-stock information to Web customers, around the same level seen among U.S. sites in 1999.
Accenture noted that European e-commerce faces additional hurdles, including multiple languages and lingering trade barriers. In some cases, Web sites crashed when European consumers tried to have good shipped across national borders.
The news is not all bad for European online consumers, however. Shopping online is faster there, with the average order taking 11 minutes. Additionally, shipping charges are 20 percent less on average than in the U.S.
"The Internet is a great place to shop, and it is going to get better in Europe very quickly if companies take the U.S. lessons to heart," said Jon Bumstead a UK-based Accenture partner.
Return to Sender
To conduct its study, Accenture ordered US$30,000 worth of goods from 85 U.S. and 81 European Web sites over a one-week period.
The New York City-based firm plans to donate $20,000 worth of the items, which included books, toys and clothing, to a children's charity and return the remaining goods to judge how well sites handle that aspect of customer service.