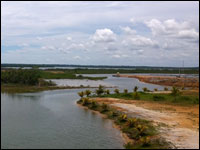 As many of you know, I've been executing on a long-term dream of first creating a vacation home, then retiring in Belize.
I've been putting some rigor into the effort to make sure the perception of the dream doesn't outpace reality. I've often been brought in on projects (like Zune) that should have been shut down early, largely because executive staff had lost track of reality. I don't want to make the same mistake with this important project.
My wife and I just spent 10 days in different parts of Belize, and we asked a lot of questions. We did see some improvement, but there seems to be a recurring theme there of developments that fail, and the place we chose appears to be on a similar path.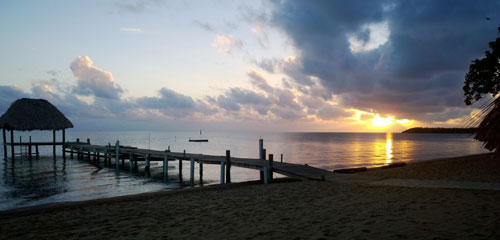 Belize Promise
So, we're putting a temporary hold on our efforts there until and unless things improve. I'll fill you in on that and close with my first product of the week for 2014.
Update 1-13-14: Retiring in Sanctuary Belize: Renewed Hope
Choosing a Place to Retire
One thing you need to consider is that you'll become less mobile as you age, and you'll need more medical attention. In addition, you'll be on a fixed income and you'll want to stretch your savings as far as possible. From an economic standpoint, Belize is still ideal with low or no taxes on income or property. Violent crime remains low — which is important because you become increasingly vulnerable — and labor is low, so you can hire the help you'll increasingly need. All of these appear to be in place in Belize and haven't changed. However, there are other areas that also need focus.
Ease of doing things — particularly making secure financial transactions — is important, because you'll be increasingly easy to confuse. You'll need to trust the people who are managing the place where you live, and you'll need access to good medical care and cheap drugs as your body slowly breaks down. On this last, Belize is somewhat like Mexico, in that far more things are available over the counter and they are much more reasonably priced then in the U.S.
Where Belize Is Falling Short
We arrived during an unseasonable series of heavy rain storms, and it felt like we were suddenly in a war zone. There were crater-like potholes on most roads, and many were so deeply submerged we could no longer see the road bed. While the current was slow, hitting a deep pothole under the water was like an extreme off-road experience. This was true even on the Hummingbird Highway, the Belize equivalent of an interstate. One of the most lucrative businesses, based on the condition of the stores, seemed to be selling tires, suggesting that replacing them was very common.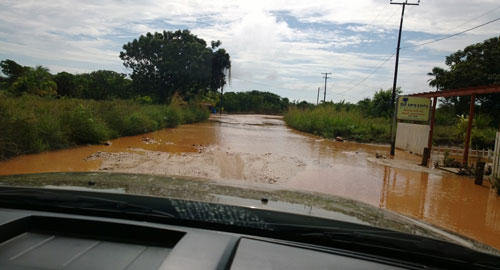 Belize Reality
While there aren't many cars — rush hour might be five or six cars behind a slow-moving truck — a lot of folks drive at unsafe speeds, given the road conditions, and a slow-driving elderly person (who am I kidding, I'll never drive slow) could easily become a speed bump. Speaking of speed bumps, on the best road we drove, there were more than 40, many poorly marked, and each large enough to launch you, as a ballistic object, at the moon. If I'm having trouble seeing them now, it will get much worse as I age, and a fast drive to the store could become a terminal event, assuming the roads are passable, which isn't always the case, we found.
Connectivity on our latest trip was a problem. It alternated between going down and providing bandwidth that made a dial-up modem seem attractive. The Sanctuary lost connectivity for five days all together, which shouldn't have happened and would be a deal killer for anyone trying to work there.
The big hospital and airport that were supposed to go in lost funding, along with a casino, because the Canadian government cried foul and stripped the funding. This appears to be a common occurrence in Belize and likely is keeping it from getting to critical mass as a major Central American state. As you drive across the country, you see a lot of ruins of recent business ventures that failed largely because they were long on promise and short on execution.
Finally, and this is true of much of Central America, crime and insect-borne diseases (currently there is an epidemic alert) appear to be on a sharp upswing. Neither problem appears to have hit Belize yet, but stories of gang killings continue, and we looked like pin cushions after our trip. We've been told the insect problem will diminish once the complex is finished, but we now have doubts that will ever happen.
This takes us to Sanctuary Belize.
Sanctuary Belize
Sanctuary Belize has always had a bit of a "too good to be true" aspect, but initially it appeared they could get it done, and I still think that with the right effort it could be saved. However, there has been a heavy emphasis on getting buyers and too little attention to getting the place to a point where people would build.
Since we bought property, Sanctuary Belize has starting calling its sales reps "investment consultants," and most of the buyers we spoke with on our prior trip didn't want to build at all. Most concerning was that the firm has been selling lots that don't even have roads to them yet, and some of the houses that are actually built or being built don't yet have water or power, with no real date as to when that will change.
One of the model homes is actually being occupied by one of the principals' kids, so it no longer can be shown. The prices to build the model homes appear to be twice what you would pay in the states, and they don't come with the land, according to what we were told during this trip. So these aren't selling either. There were also troubling stories that one of the Belize staff, a disbarred attorney, is taking advantage of folks who live or have built there.
As for progress, the site now looks like it was managed by someone with attention deficit disorder. The marina docks are in, but water, power and facilities haven't been completed. The recreation center is in, but the swim-up bar has been cemented over, because the architect thought swim up bars were pass.
The tent resort has several tent rooms done and partially furnished, but progress stopped more than a year ago, and instead of finishing it, the owners instead bought another resort some distance from Sanctuary Belize and plan to shift resources to develop it — even though Sanctuary Belize is far from finished.
The "investment consultants" tend to point out how much property has appreciated in the complex, but until recently, there was no good way for a buyer to sell a lot. Sanctuary Belize recently brought in Coldwell Banker, but we tried to contact it about a property we were interested in someplace else in Belize, and never received a call back, suggesting this could be mostly smoke as well.
Finally, the builders appear to be second- or third-class citizens at the complex. It feels like they are kept around to create the appearance that people will build there. While I'm still certain this didn't start out to be a scam, it is looking more and more like one as time goes on, and if you take the gestalt of the lack of progress, the shifting focus, the emphasis on sales, and especially the amount of self-dealing and dishonesty, this is starting to look like a project that will end very badly.
Wrapping Up: Things May Get Better or Not
Some of the folks currently building in the complex still have hope. They've been told of a major reorganization in the new year, shifting emphasis from sales and shifting responsibilities from some of the least-trustworthy folks to people who actually do what they say they will. There are a number of very wealthy investors, and many of the folks working for the project are U.S. citizens who likely can be held both civilly and criminally liable if promises made aren't kept and this drops into litigation, which you'd think would ensure performance.
The big problem, as I see it, is there is no one playing the true roles of CEO and CFO, and keeping a focus on completing the project. This is likely because of the funding model used: The lot buyers are effectively the investors, but instead of stock they are getting land — and no real voice in what is done with their money. In short, Sanctuary Belize is selling securities masquerading as deeds to property whose value is based on promises that increasingly appear to be false.
This is a creative model, but it is leading to behavior that could be catastrophic for the development. So, until we see some major changes, our plans to build and retire in Belize are on hold — perhaps indefinitely.
Product of the Week: Office 365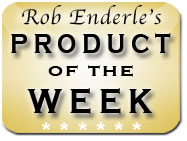 I was looking back at the end of the year at the products and games I most used and enjoyed, and it is often difficult to see that which you use the most. I mostly live in Office 365 these days, and it has been a huge improvement over the hosted Exchange service I used to have.

I get Office on the machines we use, and setting up a new system has improved significantly — and it is less expensive. While I can't wait until the next big upgrade, when they actually embrace Windows 8 and I don't have to jump between two interfaces, the amount of time, money and aggravation I've saved over the last year, thanks to this one offering, far overshadows anything else I use as a tool.
Although Steve Ballmer's failures are often in the spotlight, he has had a number of rather significant successes, and Office 365 joins Azure and Xbox as one of his three greatest. I couldn't do what I do without Office 365, and as a way of saying a belated thanks, Office 365 is my product of the week.