Color Splash Studio for iPhone: This Pony's Learned Some New Tricks
MacNewsWorld

Color Splash Studio, an app from Mac Phun, is available for 99 US cents at the App Store.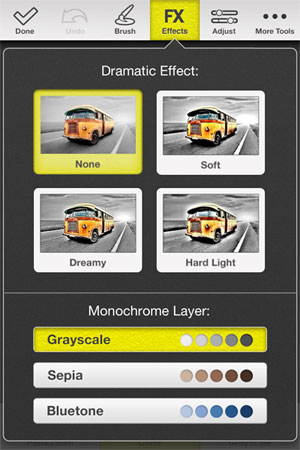 Color Splash Studio for iOS
Back in October of last year, I reviewed Color Splash Studio, an app for Mac OS X by Mac Phun that lets you turn color photos black and white then paint the color back into certain elements. The result: Artsy photos that pop.
I liked the app then, and I still like it today, and now there's a version for the iPhone as well that shares the same name: Color Splash Studio.
Basically it lets you take photos or use existing photos, strip the color, and then finger paint it back where you want it. It's not unlike several other apps that do this and similar functions, but it does have one thing going for it: Since I already own the Mac version, I'm willing to snag the iPhone version too.
When I first launched Color Splash Studio on my iPhone 4, for no good reason, I expected the controls to be nearly the same as they are in the Mac version. Instead, they share some similarity in function, but clearly the entire layout and design is different -- optimized for the Mac or the iPhone, horizontal versus vertical, mouse vs. touch.
Finger Painting
As you might expect, finely painting in color is faster and easier on the Mac with a mouse, but this is not to say it's significantly more difficult on the iPhone. While I have man-sized fingers, I could still paint the color back into a baseball cap without making a smudgy mess of it. In fact, when you choose your brush, you get to choose the diameter, opacity and the softness of the brush.
There are four presets that give you different painting effects. On one end, you get sharp lines: If your finger brush touches the photo, that area has a sharp line of color (or black and white). At the other end of the brush scale, for example, with a soft fuzzy brush, you can essentially paint over your subject to bring back the color, but you have to paint over it several times to pull out the full effect of the color. This means that you can move your finger over the edges -- the outline of the object you want to pop -- to ensure that you get full color coverage. But you don't have to worry about turning background black and white elements to full bright color. If you select the right brush for the job, it works well.
Fortunately, there's a quick "Undo" button for when you mess up. Alternately, you can switch back and forth between color and black and white with a single tap as you're editing a photo, so you can recolor (or strip out the color from) an errant slip of your finger without undoing a whole set of swiping color strokes.
Learn to Zoom
In order to enjoy this app, you had better learn to pan and zoom. This little button is easy to find and tap while editing, and if you want anything with a smart definition between the color and black and white, you'll need to zoom into the photo, finger paint, then pan the photo, repeat, then zoom out to view the results, etc., etc. Don't worry, it doesn't take long to get the hang of it.
Like the OS X app, the iOS version has all the social media features you would expect for sharing: email, Facebook, Twitter, Flickr, Sincerely, etc., as well as options for printing and saving images to your Camera Roll.
There is one feature that sets the iOS version apart from the Mac version, though, and that's an Effects feature that lets you turn the bulk of each photo into three new variations of sketches. They aren't really sketches, but the filter effect is pretty close to a pencil sketch. One is "Soft," another is described as "Dreamy," and the third is "Hard Light." What do they do? They give the sense that your photo was realistically drawn with a pencil, except when you combine the effect with a startling pop of color, you get something different and new.
I quite like the effect and wish it was in the Mac OS X version, too.
The Effects section also lets you choose Sepia and Bluetone monochrome layers, but I've never been able to bring much joy out of those tones myself, so I pretty much ignore them. Maybe you can appreciate them. The same goes for Vignette. I'm just not a Vignette kind of guy.
I have only one quibble with the app, and that's that you only get one shot at cropping your photos -- right when you import them. Why is this annoying? Half the time I wasn't sure how my experiments were going to turn out, and after I painted in color, I would realize that a smart crop could make the photo much better. Alas, that move has to come after you save your photo to your Camera Roll, cropped through an edit in Camera Roll or via another app altogether -- or you can start over from scratch with the right crop at the beginning.
All in all, Color Splash Studio for iOS is an excellent companion app to the Mac version that stands on its own and quite possibly outshines the original.

---