The Human Face of Big Data Is a Mind-Expanding Adventure
MacNewsWorld

The Human Face of Big Data Tablet App by Rick Smolan is available in the iTunes App Store for US$2.99.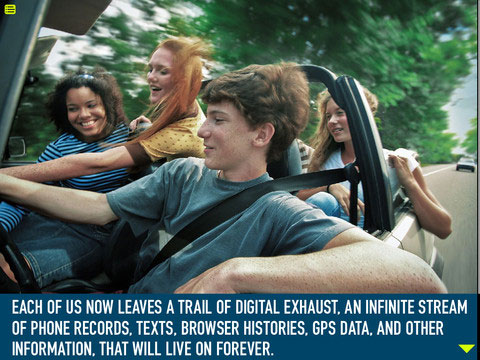 "Big Data" is one of the most apt -- and annoying -- new terms to describe a gazillion points of information all used to understand and predict things the human mind can't parse on its own. The term has been expanded and exploited by large technology corporations to sell software and hardware that promises business executives answers that are more accurate and useful than anything coming from a gut feeling.
Big Data is all about tracking, analyzing and predicting based on transactions, website clicks, GPS locations and tweets; phone calls, toll booths, street cams and headaches. For the business world, Big Data is all about making money. For governments, it's all about safety, control, repression -- and sometimes even services and improvements like cleaner water, cleaner air and faster-moving traffic.
Where does that leave us -- the mere people of the world? Where does it leave those who aren't looking to track and correlate every little purchase and page view and temperature change, and map it into some new solution or some new sale?
Enter The Human Face of Big Data Tablet App by Rick Smolan, which is an iPad app available for $2.99 in the iTunes App Store. The Human Face of Big Data illuminates more than five dozen ways that Big Data is spreading around the world -- from tracking teenage driver habits and taking our emotional temperature to saving lives through DNA analysis.
Pesky Details
The redundant "tablet app" portion of the name of this app is important, it turns out, for two reasons: 1) the app is for the iPad (not your iPhone); and 2) the app is like a digital book, but it's not a book -- it's actually a real printed book that you buy, too.
The real book, it turns out, has twice the content of the app. Plus, there's a whole website set up for the book, all of which is produced in some way by Rick Smolan and Jennifer Erwitt, cofounders of Against All Odds Productions, a company that "specializes in the design and execution of large-scale global photographic projects that combine compelling storytelling with state-of-the-art technology."
The app, it turns out, has a few corporate sponsors, which goes a little way toward explaining how it came to be. Sure it's derivative of the book, but the app is also a slickly produced, high-quality app, which no doubt required some monetary investment.
So, what am I saying here? While the app takes advantage of things like online video and touch-sensitive controls, it's really an appified portion of an old-school paper book. Still, how is it as an app? As an experience? Is it worth your time?
It is.
The most important thing this app tries to do is to view the relentless march of Big Data through the lens of humanity -- of the people Big Data can affect, for better or worse. It's a celebration of Big Data, but it's also a warning.
The app starts off with a quote from Anthony D. Williams: "Every animate and inanimate object on Earth will soon be generating data, including our homes, our cars, and yes, even our bodies."
Is that ominous or exciting?
That depends on who you are right now, but after you page through dozens of Big Data explorations, it will be hard not to see Big Data as something wider and deeper than you previously considered.
Big Data, one line of thinking goes, is less about the individual than it is about the process of helping our planet grow a nervous system: a gazillion cells and pathways, all connected to create a larger, living organism. The app looks at the people affected as this nervous system is created.
A Closer Look
The Human Face of Big Data Tablet App is basically an index of 60-plus chapters, all of which are gorgeous productions of photos and interactive elements, like a Twitter timeline that illustrates the #GREEKREVOLUTION movement as revealed through discreet social media events. If you slide a little Twitter bird icon, you can scroll through important tweets from the Greek elections in June of last year.
Another chapter shows pages from a book, Bills of Mortality, which records the rise and fall of the plague that struck England in 1664. It includes data that shows a pattern in the rise and fall of the plague, which led to the idea that patterns could explain the unexplainable, that "the Good Lord" wasn't plucking people out at random, that there was a predictable curve to how it all spread.
To learn more, the app lets you watch an embedded video of Jay Walker's TED Talk presentation -- so yes, the app is less than the printed book, but also more than the printed book.
Other chapters illuminate catching murderers in Mexico, driverless cars, warehouse robots, geeks in government, and virus hunts in an effort to prevent global pandemics.
If any of these topics, along with the goals of the app, have piqued your interest or made you vaguely uneasy, download the app and start flicking through the chapters. Will you become an expert on Big Data? Nope. Not at all. But you'll expand your mind, and as you continue along the path of your life, you'll recognize the hidden cells and neurons that are building our planet's nervous system.
Want to Pitch an App Review?
Is there an app you'd like to suggest for review? Please send your iOS picks to me, and I'll consider giving them a whirl.
And use the Talkback feature below to add your comments!

---