Napkin Takes Visual Editing to a Higher Level
MacNewsWorld

Napkin, an app from Aged and Distilled, is available at the Mac App Store for US$39.99.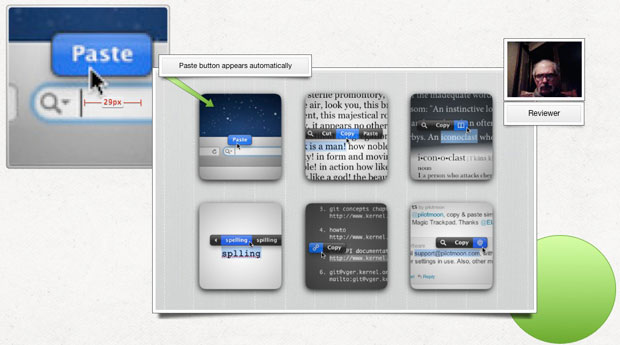 Aside from their intended purposes, napkins have been known to be used for such things as jotting down the next big idea at business lunches. It's that unintended purpose that inspired the folks at Aged and Distilled software to create their markup app called "Napkin."
Napkin gives you a set of professional tools for visually editing content, as well as creating flow charts, organizational diagrams and even mind maps.
What distinguishes Napkin from other graphics programs is that the app is smart enough to understand what you want on your display without resorting to clicks on graphics tools. For example, you can draw a crude circle using your mouse or trackpad and a perfect circle will appear. Draw a line, and it will become an arrow.
Helpful Call-Outs
As you type, text will appear on the screen in a box, or frame, under your mouse pointer. A number of box types are available. One, for instance, uses virtual push-pins to make boxes look as if they're pinned to your screen. However, three of the available styles appear to be transparent, so they're worthless.
When new objects are created on the screen, they're outlined and contain handles, or grippers, for altering their size and shape. So if you'd like to turn that circle you created into an oval or an oblong, you can click and hold a handle and drag it until you see the shape you want.
As you mark up an item, it's sometimes helpful to emphasize the detail in it. If the object is small, though, you'll have a tough time doing that. That's when a snazzy feature in Napkin called "Call-Outs" can come in handy.
To use it, you simply circle the object in your item that you want to call out and Napkin will enlarge the object under a virtual magnifying glass, similar to the "loupe" in iOS used to move the cursor around text.
Images and Screenshots
You can drag the call-out anywhere around the screen, although you'll probably want to keep it in close proximity to the object that spawned it.
You can control the size of the content inside the call-out, too, by clicking the adjustment button on the Napkin toolbar. After clicking that button, a slide control appears allowing you to increase or decrease the size of the object in the call-out.
As you fiddle with the size of the call-out, you may have to move the magnified content around to make what you want seen visible. That's easily done by clicking on the inside of the call out and repositioning the content by dragging it into position.
There's a number of ways to get images into Napkin. You can drag them from the desktop or the Finder into the app. You can import images into Napkin through a Mac's built-in camera. Photos snapped with the camera are sent directly to your open Napkin project.
Taking Screen Shots
You can also take screen shots from within the app. When you click the screen shot button, Napkin disappears from your display, and everything behind the app on your screen appears, along with two boxes.
One box contains instructions for using the screen capture feature. "Drag to capture an area," it says. "Click to capture a window."
The other box is what you drag around the screen to capture stuff. The box contains dynamic information. As you move it over the screen, it will display your position in x, y coordinates. The lower right corner of the screen, for example, is "x:0 y:0."
If you perform a partial screen capture, the numbers inside the box will display the size, in pixels, of the screen area you're capturing. While that sounds like esoteric stuff to most of us, it's useful to designers cobbling together Web pages or designing the screens for a user interface.
When you move the box over a window on the screen, the window will gray out -- making it easier to see what you're capturing -- and inside the box, the window's title will appear.
After performing a screen capture, the material is sent directly into Napkin.
Combining capturing windows and Napkins markup features can be very useful for highlighting the features in a program's interface.
Touchpad Woes
Speaking of interfaces, Napkin also has a neat feature that allows you to measure the size, in pixels, of any element on your screen.
Instead of clicking and dragging your cursor to create an arrow, you click and wait a fraction of second for the cursor to transform into a pencil. Then as you drag it across your display, the length of the line will be shown in pixels. Grabbers are place at either end of the line so you can resize it if necessary.
When you finish a Napkin project, you can turn it into an image with a click of a pip, or share it directly from inside the app via iCloud. email, messaging, Twitter, Facebook or Flickr.
While Napkin has many benefits, some of its features are clumsy to use with a Mac with a touchpad. That's because you have to use command-click plus a gesture to do things like connect objects with arrows and create on-the-fly call-outs.
Still, if you need to communicate visually as well as with words, Napkin is a very useful tool to have around.

---