Year Walk Is a Creepy Yet Delightful Stroll
MacNewsWorld

Year Walk is an iOS game available in the iTunes App Store for US$5.29. Year Walk -- an iOS game by Simogo -- is a story-adventure-puzzle that creepily evokes what it might be like to wander the Swedish countryside in the middle of night, in the middle of winter, after spending a full day without food in a very dark room.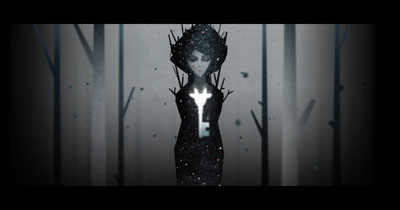 Year Walk: A Creepy, Compelling iOS Game
That is, of course, if you're some dude from 1894 desperately in love with a woman -- and you embark on a Swedish folklore "Year Walk" in the hope of seeing your future.
To see that future, you have to navigate a first-person trip through a forest, into a windmill, through a gate, over a stream, and through the foot-crunching snow.
The navigation is a odd blend of side-scrolling with up-and-down movement. To get somewhere, you might side-scroll swipe to the left through the forest, notice a path, then swipe downward to go up to follow the path. It's both simple and disorienting. Fortunately, the forest isn't so large that you can go on forever and get lost; there are only so many options.
Delightful, Elegant Spookiness
The gameplay is a work of art. You really ought to play Year Walk in a dark room, hopefully a quiet one; if you can't manage that, try headphones because the sounds matter.
Of course, the goal is to see the future, but to do that you have to wander around the forest and start interacting with things. Year Walk is a puzzle challenge that makes you pay attention. In fact, unless you're a genius or a puzzle game savant, you're going to want to jot down a few things.
If you notice a carving on a tree and some dots, make note of the carving and the dots because you'll need them later. Basically, anything distinctive is likely important to help you solve some sort of puzzle that will open up another portion of path through the forest.
If you're interest is piqued right here -- and if you're a decent puzzle gamer -- stop reading and go download the game and enjoy yourself for a couple of hours. If you're on the fence and if you might not have a lot of time or patience, I'll offer up a few tips that might help you along without spoiling the game.
As for myself, I'll admit it: I got stuck many times. Might I have been able to wander around until I figured things out? Maybe. I'm sure I would have needed to stop for a bathroom break. I consulted some walkthrough notes online, particularly near the end, but I think a few game-play pointers can help most people along.
Tips and Tricks for Year Walk
Without giving away the rest of the story, here are some thoughts and tips:
When you manage to make the creepy doll move her arms, write down the order of what she points at.
When you find a ghostly woman, follow her.
When you find the tree with the owls, remember the creepy doll's instructions.
To solve puzzles, there's usually some combination that you'll have to enter.
When you enter the creepy tree, you'll randomly get lost and eventually believe you've started back at the beginning of the tree entrance. Don't despair. Listen to the tones of each pathway and only follow the ones that sound nice. A discordant tone means the wrong direction. (And yes, this is a spot where I needed to consult the wisdom of the web.)
A horse creature in a stream is going to show you apparitions of four things. You'll have to find those four things and bring them back to the horse. To do this, you'll tap and hold the thing with one finger while moving (swiping) with the other.
You'll combine four flames to make one flame, and you'll have to transport that to a dark place to use the light.
After you touch the tombstone, jot down the series of arrows that are revealed that show you a series of left and right directions. (Again, this is a combination sort of puzzle, so spin the church accordingly.)
Near the end and after the goat creature, there are a series of puzzles; when you get through those, you'll get to the end of Year Walk's vision of the future.
It's Not Over Yet!
Warning: Spoiler ahead.
While Year Walk's story was fun, it doesn't end there. To get further into this story, you've got to download a free Year Walk Companion app, which is a cool guide to the myths and creatures encountered in the game, such as the Brook Horse.
So far, so good. There's also a lock, however, in the upper right corner of this app. You'll need a code to unlock it, and if you made it through the first Year Walk, you won't be surprised when I reveal it here: 1894.
What does this get you? A diary about Year Walk research, which provides some fun reading. Starting with October 8th, you'll find a symbol, the first of five that will be revealed through the diary. Jot them down and you'll be able to return to the Year Walk app to start another Year Walk. At this point, you'll be able to use the symbols to unlock the pesky combination safe -- if you played the game, you'll know which one I'm talking about.
Whew -- and wow. As for me, even with my limited brainpower I found the game fun, eerie and challenging. There's little chance that I would have ever found the time and patience to get through it without some help from the web.
If you've read this far and think I've revealed too much, I'm sorry -- but take heart knowing you're probably smarter than me.
Year Walk is definitely worthy of your time. Even if you need help, it's a superb example of a new way to create and deliver stories. For that, perhaps, I like it most of all.

---