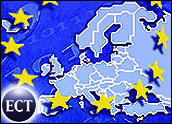 European retailers, like Germany's Metro and the UK's Marks & Spencer, are aggressively moving forward with RFID projects — with a creative flair that appears to exceed that of their American rivals, experts say. A host of cultural, political and legal factors in Europe are helping push the trend. "RFID is more justifiable in Europe than in the United States," said John Greaves, who heads the global RFID technology integration practice at Deloitte Consulting, based in Chicago.
A survey conducted during a trade show last month in Barcelona, Spain, by Deloitte Touche Tohmatsu and Retail Systems Alert Group showed that 70 percent of major European retailers are moving forward with plans to implement Radio Frequency Identification (RFID) projects during the next 18 months.
Exclusive Study
The survey indicated that European retailers believe that their revenues will increase during the first five years of using RFID. The study, an executive summary of which was exclusively provided to CRM Buyer, indicates that these retailers have a combined annual revenue of US$5 billion, giving the industry reason to be "optimistic about future participation" of other retailers, and members of the global supply chain, in RFID projects.
The study by Deloitte Touche and Retail Systems Alert Group, entitled "RFID: How Far, How Fast," indicates that European distributors believe that their 2004 budget allocations for RFID were low, with spending in the $2 million to $4 million range. Even smaller retailers spent an average of $500,000 on RFID planning last year, the study said.
Regulatory Factors
Europe's intrusive regulatory state — long bemoaned by free market conservatives in the U.S. — is something of a competitive advantage for retailers on the continent, experts said. The trucking industry in Europe is more heavily regulated than it is in the U.S. Trucking companies use wireless technology to monitor the driving records of their drivers to determine if they have operated at the right speed, and have taken the required rest stops, throughout the day, based on the requirements of a statutory work week, said Greaves.
This means that the trailers are already managed closely, and that many logistics operations companies there have implemented some form of RFID to monitor the containers on their trucks.
Companies do not divert inventory in Europe as easily as they do in the United States, moreover, said Greaves. "The supply chain is much more rigid in Europe than it is in the U.S. RFID creates business disciplines that in many ways are already in place in Europe."
Growing Demand
Many European firms have been using 900 megahertz passive UHF tags, as well as the older, 1,356 megahertz tags, for RFID projects. A survey by Juniper Research indicates that the market for RFID technology in Western Europe alone will grow from $164 million in 2004 to $1.9 billion in four years.
Marks & Spencer has been conducting a trial of RFID technology for several years now, and is planning to expand the use of the technology for managing its apparel inventory from nine of its outlets to 53 of them during the second quarter of 2005. "To support the extension of the trial, BT has been selected as the main contractor to work alongside Intellident Ltd.," a statement from London-based Marks & Spencer said. "BT will provide a managed IT development service and ongoing deployment and maintenance of mobile RFID readers in our stores."
Greaves said that both Marks & Spencer, and Metro are using passive UHF tags for their projects. "Metro, the German retailer, is embracing the technology in a big way," said Alastair Charatan, a consultant in the London office of PA Consulting, which tracks the RFID industry. "One of the big technology initiatives has gone further than many others. They are doing case level tagging, not just pallet level. They are making it a reality."
Marks & Spencer, meantime, has conducted extensive RFID projects for its foodstuffs division and clothing unit, said Charatan
Food, Fashion Pilot Projects
"They had two successful pilots, one in food and another in fashion," said Charatan. "On food, they have made a very full roll-out using RFID to tag the reusable trays for shipping fresh produce. They are talking about 3.5 million trays being used in about six to 10 distribution centers when they are receiving food and produce. They read the trays as they came in and verify what is received, and dispatched." The tags were reused many times during the trial — not disposed of. That reuse helped to lower costs per tag.
The food project used 1,356 MHz RFID technology, which one expert said may change in the future. Charatan said the food project reduced a lot of labor costs for the retailer. "That's a successful trial," he said. "Literally, this very month, in March 2005, they completed the rollout."
According to Rebecca Wettemann, vice president of research from Nucleus Research, of Wellesley, Mass., which tracks the wireless industry, Marks & Spencer is trying to "wring every pound they can of costs out of their operations" through RFID. "It's working," she said.
Another competitive advantage for these major European retailers may be the proximity to the leading makers of RFID tags in Germany and Finland. "Matrix tags are the flavor of the month for Wal-Mart, and they are made by a firm in Dresden, Germany," said Greaves.
As a result of its industry contacts, Metro is using RFID in a "production environment, which is a different approach from the U.S.," said Tom Miller, president of Seattle-based Intermec, an RFID supplier that has been working with the firm, the fourth largest retailer in the world. "For their future store project, and innovation center, we have been involved in the installation of RFID in their distribution center."
The German retail giant has also worked with IBM and Check Point to define the optimal RFID system for its facilities. "They have a lot of collaboration with suppliers for different product groups," said Miller. Miller estimates that Metro has tagged 50,000 pallets as of January, and may have more than doubled that since then.