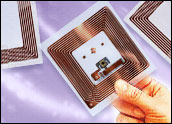 The move to add tiny radio antennas on shipments of pharmaceuticals will not be enough to prevent counterfeiting and tampering, analysts said.
The Food and Drug Administration (FDA) and several drug makers announced they would be putting RFID-tagged labels on medicine bottles beginning with the impotency drug Viagra, which is heavily counterfeited, and the narcotic pain reliever OxyContin.
Creating a Trail
The tags would help create an electronic trail so shipments could be checked to make sure each progressed properly along the supply chain.
The problem is that the technology has limitations, Jeff Woods, principal analyst with Gartner, told CRM Buyer.
"RFID doesn't work as advertised," he said. "A lot of people believe you can put tags on cases on the pallet and they'll all be within the right line of vision, and all the tags will be read, but it's not true. Normal tag configurations have only 70 percent read rates."
He said that with advances in packaging and if the cases are stacked in the exact right configuration, read rates would go up, but "that would be very difficult and time consuming."
Other Measures Needed
This is one step toward combating the problem of counterfeiting. However, Woods said other steps must be taken in concert with it. He mentioned new packaging, holograms and safety seals as other features that will help reduce the growing problem.
Purdue Pharma, the maker of OxyContin, said it would begin shipments of the tagged medication this week. Pfizer, the maker of Viagra, said it would begin shipping RFID-tagged bottles by the end of next year. GlaxoSmithKline has also said it would begin using the tags.
For the RFID industry, this is a small win. But Woods said the technology has been "just around the corner" for a long time and never quite makes it. He added that he believes that the way for RFID to make inroads is by looking away from replacing barcodes and toward industries, such as hospitals and retail shops, where barcodes have not been successful in tracking inventory because of the difficulty in enforcing their use.