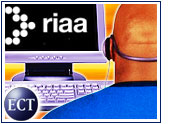 The Recording Industry Association of America (RIAA) has issued another 493 lawsuits against alleged music file-sharers, which brings the total number of individuals it has sued to almost 3,000. The RIAA doesn't yet know who any of these 493 users are, but the RIAA hopes to acquire their identities by gaining court orders that will force the ISPs to divulge the alleged perpetrators' information.
However, the RIAA has in fact acquired the names of 24 individuals that its also issued lawsuits against yesterday — having failed to reach out-of-court settlements with them. The RIAA began suing file-sharers last September, saying it has settled some 400 cases with alleged copyright infringers. The RIAA has said that is has settled with these file-sharers for an average US$3,000 to $10,000.
In April 2004, the RIAA ended its amnesty program, originally offered to allow file-sharers to come clean and change their ways. By many analyst estimates, however, the RIAA's crusade has yet to have a difinitive impact on file-sharing networks.
For example, according to the market research and marketing consulting firm Big Champagne, up to 9.5 million Internet users were simultaneously using file-sharing networks in April, compared with the 7.4 million logged on in September 2003.