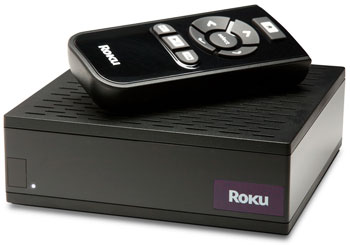 Roku Digital Video Player
Roku is making additional types of content available via its set-top players with the introduction of the Roku Channel Store. Participants so far include Pandora, Facebook Photos, Revision3, Mediafly, TWiT, blip.tv, Flickr, FrameChannel, Motionbox and MobileTribe.
Other providers are developing apps for the Roku Channel Store; as they are ready, they will appear there automatically, the company said. Existing Roku channels include Netflix, Amazon Video On Demand and MLB.TV.
Roku plans to roll out the Channel Store as a free upgrade to its existing customers over the next two weeks.
Content Everywhere
Roku seized upon the nascent "TV Everywhere" business model when it entered the market in May 2008, customizing it for its own family of players. Comcast and Time Warner are among those promoting the concept — essentially, allowing customers to watch certain premium content online.
Roku is leveraging the same consumer demand for flexible content but channeling it to the television set.
"Our focus is on delivering great content to the TV from a variety of sources," spokesperson Brian Jaquet told the E-Commerce Times.
Despite the ubiquity of computers and the increasing consumption of multimedia via smartphones, "the TV still rules the roost inside homes," said Jaquet.
A typical use of the platform would be uploading a video of his daughter at Halloween to a channel partner site, which his parents could then access to watch on their Roku-equipped TV, he suggested.
"The point of our open platform and SDK is to deliver more and more content — perhaps content that people don't normally associate with television — to the living room," Jaquet noted.
One Screen in the Cloud
Another way to think of Roku's business model is as "one screen in the cloud," Michael Gartenberg, vice president of strategy and analysis with Interpret, told the E-Commerce Times.
"Essentially, what they are doing is taking the TV set — whether it is a standard appliance or a high-def monster — and enhancing it with content the consumer wants to see," he said.
The customizability of the content is important.
"The consumer decides to select what is most interesting," noted Gartenberg. "Someone who is not interested in Facebook, for example, can keep that particular channel hidden."
Whether this model really begins to get traction will depend on large part in the partnerships Roku is able to ink, he said.
This is not necessarily an easy challenge.
"People don't tend to make artificial distinctions between their screens — their PCs or mobile phones or television sets," Gartenberg pointed out. "However, the content owners and companies that control these screens certainly do think of these channels as very different, each having its own revenue model."
These barriers will come down, he predicted, in large part because the demand is there, and because consumers have such varying tastes and expectations that a one-size-fits-all content-shifting model is unlikely to work.
"For some people, content shifting is about watching 'Lost' on their PCs. For others, it is about streaming Internet content onto their TV sets," Gartenberg said.
The content providers, for their part, have an interest in increasing the number of viewers of their digital products as this usually translates into increased ad revenues or subscription fees — or both.