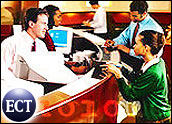 When S1 began dabbling in CRM a few years ago, enterprise software for financial services applications was already the company's forte. At the time, the company had elements of CRM — such as Internet-based products for targeted marketing and portal capabilities — woven into its enterprise software.
Two recent acquisitions have increased S1's stake in CRM, and the company's focus on financial services places it in a unique position. The buyout of Software Dynamics in 2001 added branch automation and call-center capabilities as well as analytics, and the purchase of Point Information Systems in 2002 gave S1 access to a full CRM suite.
"Before that, we were not in CRM in the same way as Siebel, Onyx or PeopleSoft," said Laurie Hood, vice president of product marketing. "2002 was really the first year that we offered a full suite that could compete with other vendors," she told CRM Buyer.
Full CRM Package
The end-to-end CRM suite is made up of three main components: sales, marketing and support. The sales center, designed to help sales teams offer the right product at the right time, provides opportunity, deal and product management as well as sales channel management. The marketing center helps facilitate campaign-, lead- and other marketing-management functions, and the support center addresses customer care and financial transactions.
Various combinations of these capabilities are available and can be added as the customer grows. Although branch automation, Internet banking, call centers and voice-automation capabilities are also sold in modules, S1 aims for a multichannel approach, providing a single view regardless of which channel the customer chooses.
Financial Roots Run Deep
What S1's CRM suite does not include are the manufacturing, distribution and supply chain functions that might be part of an offering addressing multiple verticals. "Financial services does not need that," Hood said.
While the company's roots in the banking, insurance, wealth management and other financial service fields serve it well, competing against the CRM giants will be challenging, according to Gartner research director Kim Collins. Siebel has addressed CRM applications for financial services for longer than S1, and J.D. Edwards recently has stepped up its focus on that sector, Collins said. S1 also faces WebTone, a niche player in CRM software for financial services.
However, Hood said she believes S1 will be a formidable rival in financial applications for CRM. "We're a new player in some ways, but we can compete in Internet banking, branch automation and marketing automation for financial services."
Future Improvements
S1 is working on strengthening analytics for high-end users, Hood added, "but we can compete with other CRM vendors in the low end and mid-range."
The financial software company is still integrating Point Information Systems into its enterprise software. The acquired company, formerly focused on broad-based CRM applications, will be geared toward managing financial institutions' front offices, said Jeanne Capachin, research director of corporate banking at Financial Insights, an IDC company. "S1 is still marketing it as a stand-alone piece but is in the process of moving it to its J2EE platform," she told CRM Buyer.
Expect more acquisitions as S1 continues its quest to serve "the whole client view from the bank's standpoint," Capachin said.