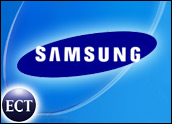 Today's technology announcements typically involve smaller and smallercomponents, computers and other gadgets, but Samsung this week touted the"world's largest" television based on organic light-emitting diode (OLED)technology — a 21-inch flat panel display.
While Samsung has addressed common OLED issues suchas power and resolution with an active matrix (AM)-based OLED,analysts emphasized that the 21-inch screen was merely a demonstration andstill a long way from the consumer market, where traditional liquid crystaldisplay (LCD) and plasma technology are among the hottest commoditiesavailable.
Nevertheless, the future does look bright for OLEDs, which may offer benefits over othertechnologies, including price, flexibility and durability.
TV Target
Samsung said its 21-inch OLED display features 6.22million pixels in wide ultra-extended graphics array (WUXGA). The OLEDoffers brightness of 400 nit, contrast ratio of 5,000:1, colorgamut of 75 percent and fast response times, making it ideal for highdefinition video, Samsung said.
While OLED technology has been used for smallerdisplays on mobilephones, digital cameras and similar devices, its usefor larger televisionscreens has been held up by technological issues aswell as cheapercompeting technologies.
"With the development of the world's largest OLEDat WUXGA resolution,Samsung has achieved a technological advantage and ispositioned well to bea leader in the large-sized OLED for the TV market,"said Jun-Hyung Souk, Samsung seniorvice president of LCD research and development,in astatement.
Lagging Behind
Recent research fromTexas-basedDisplaySearch indicates that LCD and plasma displaypanel (PDP) are the mostpopular flat screen technologies today.
DisplaySearch, which just released its quarterlymarket report, said LCDTV shipments exceeded expectations in the thirdquarter of last year, risingmore than 100 percent over last year to 2.2 millionunits shipped.
As for plasma screens, DisplaySearch reported thatshipments reached714,000 units with strong growth in North America andEurope.According to DisplaySearch analysis, Samsung wasthe number fourworldwide television seller behind Sony, Philips andmarket leader Sharp, whichhad 28 percent market share as of the third quarter2004.
OLED Hurdles
Gartner research Vice President Martin Reynolds saidOLED technology isstill limited to niche status. Beyond smallhand-held device displays, he said, thelongevity issues with the organic cells used in OLEDdisplays will continueto hamper their progress.
"It's really a concept demo," Reynolds toldTechNewsWorld. "It will be sometime before we see OLEDshaving an impact since they're not even [fullydeveloped] on cell phones."
Reynolds said OLEDS demand far more power and can deteriorate faster than today's LCDs and plasma screens.
"OLEDs do have technical problems, but the problemswill be solved — justnot in the next year or two," Reynolds said.
Longevity
DisplaySearch Senior Vice President Barry Young toldTechNewsWorld that although there have been otherannouncements of prototype OLED TV screens, theSamsung OLED was produced with the amorphous silicontechnology, which translates to larger, betterdisplays.
"What this says is they will be able to build largein OLEDs," Young said.
Young credited OLED technology with higherperformance, including faster response time, widerviewing angle with high contrast, and better blackimages that are off instead of hidden. He said OLEDscreens do not need backlight, making them eventhinner and reducing material costs for manufacturers.
However, Young also said today's OLED technology –which averages 10,000 hours until it becomes halfas bright — still lags behind the 30,000- to50,000-hour lifespans of today's large televisions.
Young believesOLED displays will be in play within three to five years."[OLED lifespan] has jumped from 5,000 to 10,000 inthe last year," Young said. "Samsung expects thisaround 2007 to 2008. By then, the lifetimes will besufficient to meet public demand."