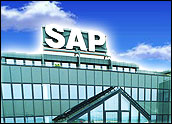 In an effort to strengthen its market position in the retail industry, SAP today announced it is acquiring a privately-held Canadian point-of-sale software provider.
SAP said it plans to purchase Toronto-based Triversity, whose product portfolio includes traditional and enterprise point-of-sale, store inventory management, POS loss prevention, customer loyalty, stored value, store back-office and in-store and multi-channel customer service.
The acquisition is expected to be completed in October. Financial terms of the transaction were not disclosed.
"The acquisition of Triversity falls right in line with our strategy of acquiring companies to enhance product functionality and extend our leading position within key industry verticals," said Bill McDermott, president and CEO of SAP America. "Our acquisition strategy is not to acquire customers, but rather to help serve our customers better."
A Growing Retail Opportunity
SAP said it sees the retail industry as a significant growth opportunity as retailers move away from in-house software development in favor of standard software solutions. The company is betting customers will view IT as a strategic instrument to drive competitive differentiation and business growth.
SAP and Triversity already have a list of joint customers including The Body Shop, Casa Ley, Indigo Books, Wawa and Trader Joe's. Specifically, SAP said Triversity's solutions will complement SAP's portfolio of retail software, tightly integrated through the SAP NetWeaver platform.
Built on SAP NetWeaver, the SAP for Retail solution portfolio allows retailers to leverage existing IT investments in an integrated solution landscape. The platform is designed to help reduce the complexity of IT while driving innovation, reducing costs and pursuing flexible business strategies.
McDermott said that with Triversity's customer-centric, market-leading point-of-sale solutions becoming part of the SAP for Retail solution portfolio, the company can better serve its customers with an end-to-end retail offering, connecting data from initial consumer interactions at the point of sale through the retail supply chain and on to the enterprise back office.
A Competitive Acquisition
Judith Hurwitz, president of consultancy Hurwitz & Associates, told CRM Buyer that the Triversity acquisition is partly a response to Oracle's recent buys in the retail space — namely Retek. SAP and Oracle engaged in a bidding war over the company, with Oracle winning out last March.
"The Triversity acquisition shows the consolidation in this whole space and the competitive movement of players," Hurwitz said. "I think you are going to see continued acquisitions and continued alliances, both around the middleware space and the packaged software space."
Hurwitz also pointed to Oracle's recent agreement to support IBM's Websphere and DB2 platforms. That's significant, she said, because many believed that as Oracle started to push more into the packaged applications and middleware space, it could have the unintended consequence of bringing SAP and IBM closer together.
"For many years, IBM has been doing a lot of work to cement its relationship with players like PeopleSoft and Siebel," Hurwitz said. "Conventional wisdom was that there could be issues there as these packaged software vendors get bought up. What happens to the middleware investment? Clearly the customers have spoken."