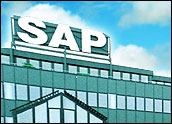 SAP's profit rose 8.2 percent thanks to a surprising increase in license sales. In response, the company's stock surged to record highs not seen in the last 18 months.
For the quarter, SAP posted net income of 51 US cents a share, or $620 million, from .47 cents a share, or $573 million, a year ago.
The most-watched metric, software licensing revenue, did not disappoint SAP shareholders this quarter: That revenue, which is also a key gauge of SAP's future business activity in terms of consulting and maintenance fees, rose 18 percent to $987 million. Earnings in the quarter were also positively impacted by a 25.8 percent tax rate.
SAP had been expected to post a decline in net profit, Frederic Ruffy, an analyst with the investor education firm Optionetics, told the E-Commerce Times. Software license sales were estimated to come in at $933 million, according to a Bloomberg survey of analysts.
Orders from Germany's HSH Nordbank and Russia's Surgutneftegaz were enough to prompt SAP to declare that its global market share increased to 26 percent by the end of last month, up from 25.1 percent at the end of the first quarter and 23 percent from the second quarter 2006.
A Turning Point
Looking forward, the company is working on a new product launch geared toward small and medium-sized business, Ruffy said. Known as "AIS," the software is a simpler and cheaper Web-based office application that is considered vital to SAP's future growth, he said.
SAP — last year's market darling, this year's ugly duckling — is beginning to restore investment confidence, Ruffy said.
"After falling roughly 20 percent from early January to late March, the stock has been on the mend. Shares of the software maker rose 7 percent in June. Today's 8 percent rally pushed the share price past its previous 2007 high of $55.96 and to its best levels since May 2006."
Whither CRM?
Not all of the SAP's product endeavors are on track, however. SAP's on-demand CRM application — which at one time had the CRM market quaking in anticipation of its arrival — has not fulfilled its original promise, Rebecca Wettemann, vice president of Nucleus Research, told CRM Buyer.
"While SAP has talked a lot about improving its CRM offerings, it has yet to show that it understands the on-demand CRM market," she commented. "Further, few customers buy SAP CRM because of its ability to deliver value; rather, they purchase it as part of a broader SAP investment strategy."
A company looking to acquire a CRM product will find many other applications that deliver greater value and have less cost and risk," Wettemann concluded.