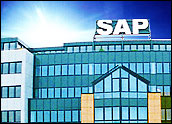 SAP's Sapphire user conference in New Orleans kicked off last week with a keynote by SAP chief executive Henning Kagermann, who called for more efforts to streamline the company's applications and bolster Web services adoption.
Those twin themes were echoed frequently throughout the week in conference sessions and product releases. Indeed, much of the news announced during the three-day event showed SAP is striving to make its products easier to use. Just before the conference, the company launched a set of software and services designed to help customers tackle everyday projects using its systems.
As an indication that the company will keep moving in this direction, copies of the book NetWeaver for Dummies were distributed at the event.
"People want to be able to get a handle on NetWeaver without the need to go through lots of technical documents," Ori Inbar, vice president of product marketing for SAP NetWeaver, said to CRM Buyer. "This shows that we're working hard on giving everyone, not just technical people, a way to understand the application."
Keeping It Simple
Most notable in SAP's effort to streamline applications was the announcement that the company will extend its existing partnership with Microsoft to offer deeper integration between NetWeaver and Microsoft's .NET architecture.
Inbar noted that this deal is significant because it will help developers who use Microsoft to do more with NetWeaver as well. "Many SAP customers are also Microsoft customers," he said. "They're excited about NetWeaver, but they have an army of Microsoft developers."
With the two companies more closely aligned, he said, SAP customers will be better able to leverage existing resources and therefore will save money.
Beagle Research founder Denis Pombriant agreed that the SAP-Microsoft partnership could prove significant for customers. He referred to a similar move made by Microsoft and Siebel a few years ago, with the aim of beefing up the usability of Siebel products.
"Already, I've noticed big improvements in the way the Siebel system works," he said in an interview with CRM Buyer, "which means this [new deal with Microsoft] could be very important for NetWeaver."
Quick Thinking
Inbar added that a post-conference announcement is on the horizon and will show that SAP means to keep its promises to stay focused on simplicity and usability.
Specifically, he disclosed to CRM Buyer, a rapid installer for NetWeaver is set to be unveiled that will offer preconfigured applications for specific scenarios. Companies using this tool will be able to install NetWeaver in less than an hour, he said, and usually less than half an hour.
"This is adding to our attempt to make NetWeaver easy for the consumer," Inbar said.
Eye on Analytics
Another major theme at the conference was analytics, according to SAP vice president Siegfried Leiner. He noted that SAP has decided to take a different approach than other vendors by folding analytics into processes, rather than keeping the two components separate.
Leiner told CRM Buyer that companies invest in CRM solutions because they want to improve operations and foster customer intimacy. To achieve these goals, he said, it is crucial to have analytics embedded in processes.
"It's not just about data mining," he said. "There's a bigger picture here when you look at what you want to achieve. It's about predicting and optimizing."
Pombriant agreed that doing more with analytics — and making the process easy to understand — is a step in the right direction. "Analytics are very important for CRM," he said. "If you're going to just make more data available to your line-of-business people, they're going to drown in it."
He added that analytics and associated technologies like rules processing and workflow allow companies to standardize operations. Because of this, most CRM vendors are making more of an effort to offer stronger analytics with their applications.
Future Tech, Today
Several fresh directions for SAP were emphasized during the Sapphire conference as well, including a focus on radio frequency identification (RFID) technology and other forms of mobile CRM.
Overall, SAP announced that companies in diverse industries are utilizing the RFID functionality in its mySAP Business Suite solutions and in RFID packages that target different industries.
In another partnership announcement, SAP and Research In Motion (RIM) noted that they will combine mySAP CRM with RIM's BlackBerry wireless handheld computing platform. This deal will enable field sales representatives who have mobile access to tap into customer and account information with greater efficiency and speed.
Mobile Hot Topic
Kevin Rickson of SAP's CRM solution marketing department told CRM Buyer that the most traffic on the conference floor congregated in the mobile sales and service area. "This is where many of our customers are going," he said. "Users today are looking for more, especially in sales."
He added that the RIM platform is so popular that the alliance with that company makes sense. "Everyone on the show floor was using a BlackBerry," he said. "That says something about the importance of the technology."
No matter the details of each new initiative, Inbar noted that simplicity is the driving force guiding SAP now.
"In March we launched NetWeaver '04," he said. "That was most of the emphasis at the show: to show people what it is and how they can take advantage of it…. With a focus on making everything streamlined, we're seeing tremendous interest in what we're doing."