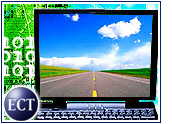 Saratoga Systems' iAvenue is a comprehensive CRM suite designed to integrate front- and back-office operations with sales activities — in real-time — for mid-size to large customers. Company executives say the suite can run on Windows or on the Web with remote-access capability.
Saratoga president and co-founder Al Smith told CRM Buyer Magazine that the technology incorporates robust customization tools as well as significant reporting and query capabilities. It lets users store unlimited transaction information and easily reconfigure screens without reprogramming, he added.
The key lies in empowering customers to control their own data and costs, according to Smith. "It's no secret that there's a large number of expensive, unsuccessful implementations of CRM," he said, but he emphasized that "iAvenue's flexibility and architecture allows it to be quickly and economically implemented with a high degree of sophistication."
When Money Is Everything
While the cost of implementation and annual updates of CRM suites over a five-year period can amount to four or more times the software's original price, comparable costs at iAvenue are less than the application licensing fee, according to Saratoga Systems vice president of professional services Larry Blair.
The cost of owning iAvenue (including software, hardware, services and IT infrastructure) over five years is roughly US$1.7 million, Blair told CRM Buyer. He compared that figure with Yankee Group data showing price tags of $1.87 million for similar hosted applications and an industry average of $2.4 million to own comparable software outright.
Out-of-the box implementation of iAvenue with little customization takes about two weeks, while "medium customization" takes one to three months, Blair said. More extensive customization generally takes four months.
In Sync with Field Workers
That is about how long it took to get a customized version of iAvenue up and running at Valley Lab, a division of Tyco Health Care, said project leader Dan Ewing. "It was a blank sheet of paper when we started with it," but Valley Lab was able to customize the software to accommodate different types of customers, the organization's pricing model, and weekly and long-range sales reports, he said.
iAvenue's ability to synchronize data from remote users into a central database is a particularly attractive feature for Valley Lab, according to Ewing.
Coming up with technology sufficiently robust to synchronize data from the field has been the CRM industry's Achilles heal, Smith said. "iAvenue's synchronization works well because it is designed into the product from the very beginning," he noted. "Some of our competitors have tried to retrofit it onto the product, which is difficult."
Thinking Globally
Smith sees Saratoga Software's global focus as another advantage. "The ability to handle large numbers of users fast and handle customers in a multi-server environment is crucial. When you have a center of information in Amsterdam and a center of information in the United States, you need the bandwidth and the horsepower to share information," he explained.
"You need to handle different currencies and languages. It sounds basic, but many companies can't do this well," Smith added.
Could thinking so broadly hurt the CRM vendor in the long run? Erin Kinikin, vice president and research leader at Giga Information Group, hailed iAvenue's strong mobile disconnected support, flexible integration and easy operation — but underscored the challenges in competing with giants. "Over time, vendors like Saratoga will either get acquired or retreat to vertical niches, such as utilities…" she told CRM Buyer.
While Saratoga Systems applies a broad brush to some aspects of CRM, the company does refine its approach in terms of operations and industries. "We stick close to sales and field sales," Smith said. "We're focused as a best-of-breed company. And though we'll sell into a variety of industries, we do target specific verticals, such as financial, chemical, transportation and others."
The privately held company is profitable, has little debt and has "come through the software purchasing drought," according to Smith. "We are in good shape and can increase market share dramatically in the coming two years."