4 Young Innovators Capture Google Science Fair Awards
By Rachelle Dragani
Sep 25, 2013 2:08 PM PT
Google on Monday announced the winners of its Science Fair, awarding three students for their innovative ideas in public health, alternative energy and app development.
The company's third annual competition drew contestants between 13 and 18 years of age from more than 120 countries. Google this summer announced 15 finalists, all of whom were invited to the company's Mountain View, Calif., headquarters last weekend to present their final projects to a panel of judges.
The judges named winners in three age categories. Scientific American teamed up with the Google Science Fair to name a fourth contestant the "Scientific American Science in Action" winner.
Flu Fighter
The winner of the 17-18 age group prize, Eric Chen, also captured the grand prize for his work developing computational models designed to help stop the spread of the influenza virus. The San Diego student set up 3D designs of several strains of the influenza virus, then screened half a million potential chemical compounds through his model to determine which could act as potential medications to kill the flu. He identified 237 that could work as drug candidates.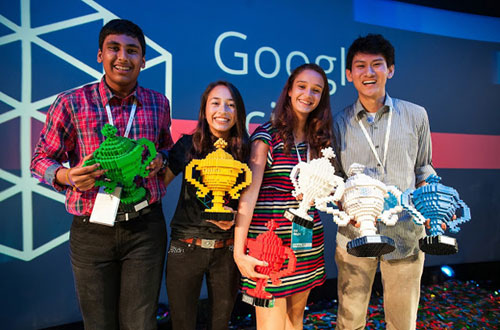 Winners of the Google Science Fair: (From Left) Viney Kumar, 14; Ann Makosinski, 15; Elif Bilgin, 16; and Eric Chen, 17
Ann Makosinski of Victoria, Canada, won the 15-16 category for her Hollow Flashlight. The flashlight is powered by Peltier tiles and the energy from the human hand instead of batteries. The flashlight -- along with the other science fair entries that focused on alternative energy products -- addresses one of the greatest needs in the developing world, said Dave Irvine-Halliday, a professor in the Department of Electrical & Computer Engineering at the University of Calgary.
"We cannot have enough good alternative energy-powered products for this market," he told TechNewsWorld. "There are around 1.5 billion people in the world today who have no access to grid electricity, and that number will grow over the next few decades as the world population increases -- thus the dire need for good alternative energy products."
Viney Kumar took home the top prize in the 13-14 age group. The Australian teen developed an Android app called "PART," for "Police and Ambulances Regulating Traffic." The app uses GPS data to alert drivers more than a minute before an ambulance or emergency response vehicle is coming, allowing them to clear the path for the vehicle to help guarantee responders don't get stuck in traffic.
Going Bananas
The Scientific American Science in Action award went to Elif Bilgin, a 16-year-old from Turkey, who spent two years developing a bioplastic made from banana peels. The award is designed to honor a project that is innovative and easy to put into action in communities worldwide to address an environmental, health or resources challenge.
Bilgin became convinced that the starch and cellulose in the skins of bananas, mangoes or potatoes could be used to create a plastic. She experimented with 10 different combinations before she created a strong one that didn't decay too rapidly. Her hope is that the material can replace petroleum-based plastics.
Future Innovators
All the winners will receive prizes from Google and its Science Fair partners, which include CERN, Scientific American and National Geographic. Grand prize winner Chen won a trip to the Galapagos Islands and a US$50,000 scholarship. Bilgin, the Science in Action winner, will also take home a $50,000 prize and receive a year's worth of mentoring to help her further her work.
When awarding those prizes, both this year and in the past, the judges often focused on projects that addressed public health, alternative energy and security concerns, said Albin Gasiewski, director of the Center for Environmental Technology at the University of Colorado Boulder.
That suggests Google is hoping it can spark innovation in the areas where the world will need it most going forward, he added.
"Any company that puts prize money towards the development of innovative ideas, especially among young people, is really setting itself apart," he told TechNewsWorld. "We need more young people getting into science, technology and math in high school, and they need opportunities like this to make it fun and interesting. There are several global challenges that science and technology needs to address, and this is a way to get the best minds starting young on solving those challenges."