Dragon Go Burns Its Way to the Top of the Mobile Search Heap
MacNewsWorld

Dragon Go, an app from Nuance Communications, is available for free at the App Store.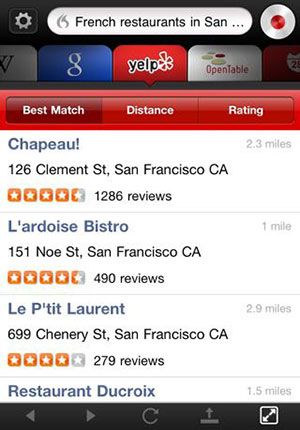 Dragon Go for iPhone
A new voice-based search and find app, Dragon Go, has rocketed up my list of personal favorites. Why? It lets me get the stuff I want faster than ever before -- the good stuff, too, and I don't have to scroll through a bunch of crud to find it.
Nuance Communications is the voice-recognition company behind a variety of voice recognition and transcription applications, and Dragon Go is its latest offering. On the surface, it immediately seems redundant compared to the generally excellent Google Search app that lets you speak into your iPhone's microphone to launch a Google search. Where Dragon Go shines, though, isn't with its amazing ability to understand what I actually said, even with background noise. No, Dragon Go shines because the results it provides have both depth and breadth without getting overwhelming.
Sounds like an oxymoron, doesn't it?
How It Works
To launch a search, you tap a mic button on your iPhone 4 or 3GS (or recent iPod touch with a mic), say what you want, and Dragon Go records your voice and sends it along to Nuance's servers in the sky, where it pretty much instantly is decoded and returns a set of results.
Here's an example: I said, "Horrible Bosses," and the first results Dragon Go came up with was "Horrible Bosses" on Fandango. If I wanted tickets or show times or to simply learn more about the movie, boom, there it was. That's not all, though. Dragon Go gives you seven tabs to likely sources that you can swipe through at the top of the results screen.
Next to Fandango, I could swipe over to an IMDb tab and learn about the "Horrible Bosses" movie on IMDb (the Dragon Go tab caps the "B" while the official IMDb site keeps it lowercase). My next tab swipe gives me audio options -- albums from the soundtrack I could buy and download from iTunes, as well as the ability to launch Pandora (or Last.fm) and create a "Horrible Bosses" radio station, for example, if you have the Pandora app. Another flick, and I have a list of Horrible Bosses" content on YouTube, including trailers and interviews with the actors.
With the next swipe, I get a list of Twitter real-time results -- pretty cool, if you pay attention to tweets. With another swipe, I can read all about "Horrible Bosses" on Wikipedia. And the seventh option? Google. The default search engine is Google, but you can choose Bing or Yahoo if you prefer.
The Top Seven Tabs Changes
With the interpreted context of your search, the top seven tabs changes. For example, if you want a restaurant or something to eat, you'll likely get Yelp results. When I said "coffee," Yelp gave me a list of local coffee shops and restaurants that serve coffee, sorted by Yelp's Best Match option. When I said, "best coffee," Yelp delivered local coffee shops sorted by its Rating option, listing the coffee shops with the five-star user ratings first. When I said, "closest coffee," you guessed it, Yelp sorted by distance to my current location.
Nice.
In the other tabs, I could choose to use OpenTable; a map of coffee shops; a list of coffee shop names, addresses, and phone numbers powered by Bing; YouTube videos on coffee (uh, well, OK); coffee tweets (hmm ...); Wikipedia (the country of origin for coffee is Ethiopia, it turns out); and of course, Google.
All in all, not bad.
When I tried something a bit different, such as "Les Schwab Tires," the results were mixed. Dragon Go guessed I was looking for a restaurant and served up Yelp results, of which there were none because Les Schwab Tires isn't a restaurant, despite the free popcorn and coffee in the waiting area. No, Les Schwab Tires is a Northwest-based tire service center. When I tapped the map tab, though, Dragon Go, powered by Bing here, delivered the correct location and address information for the local branches. YouTube gave me Les Schwab Tire commercials, and so on and so forth.
And Now for Something Harder
When I tried "Rafts at NRS," Dragon Go successfully puzzled out the acronym and delivered me to Google results. And what was the next tab in Dragon Go? A little camera. I swiped to select it and was treated to images of NRS rafts, as delivered by Google. As for Twitter, there were no Tweet results for Rafts at NRS. Not surprising, of course.
There's so much more, of course. Last weekend my big car-camping inflatable mattress died. I need a replacement. So I tried, "Blow up mattress." The results? Blow-up mattresses from Amazon.com in an Amazon.com tab. A couple tabs over, I could choose eBay results. I also was offered an IGN tab, which is a video gaming site, and as near as I can tell, totally unrelated to mattresses. But "blow up" ... I'm sure that's a common term for gamers where all manner of stuff explodes.
The bottom line? Sorry Google, Dragon Go is now my No. 1 search-and-find app on my iPhone.