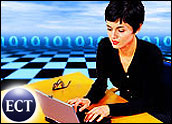 As the CRM software segment has slowed down, the employee relationship management (ERM) segment has revved up — or it has for CRM industry pioneer vendor Siebel, anyway. In fact, some of Siebel's biggest deals recently have been for software that serves people inside enterprises, not outside.
"ERM now represents the largest Siebel deployments and is the fastest-growing product line for Siebel," said Stacey Lawson, general manager of Siebel's ERM unit.
"We see a strong link between CRM and ERM," Lawson told CRM Buyer Magazine, noting that companies on tight budgets, looking to do more with less, increasingly are seeking workforce efficiency improvements to get there. In addition, Siebel is betting that business gurus are correct when they say that companies with dissatisfied employees are highly unlikely to have satisfied customers.
Pillars of Success
The Siebel ERM suite, Lawson said, is built on five pillars: tying employee performance to business metrics, communicating effectively, building a highly competent workforce, enhancing employee training and skills, and supporting employees effectively.
"We have a full suite of applications that address this spectrum of needs," Lawson said, asserting that enterprise software competitors like Oracle and PeopleSoft currently offer only one or several modular components and that niche vendors typically play in only one of these five functional spaces.
Moving into ERP Territory
In fact, Siebel is taking itself directly into ERP (enterprise resource planning) territory with its ERM product line. The family of applications, detailed below, includes many that incorporate data typically found in ERP systems, such as payroll and expense information and high-level analytics:
Executive Analytics
Workforce Analytics
Objectives and Reviews
Competency Management
Career Management
Compensation Planning
Group News
Micro Sites
eTraining
Distance Learning
HelpDesk
Support Automation
Employee Self-Service
Quality Management
Time & Expense
Naturally, with their main revenue sources shrinking, ERP vendors want a piece of this action, and Lawson's assertion that no other vendor has a complete ERM suite makes more sense when the intentions of ERP vendors are taken into account.
For instance, Oracle vice president Lisa Arthur told CRM Buyer that her company includes ERM functions in its integration e-business suite so that it can design business processes that span functional boundaries — eliminating artificial boundaries between finance, human resources, marketing and other departments.
Big Deals Get Bigger
Despite the marketing rhetoric being thrown around, Siebel is landing deals in a wide range of verticals with its ERM suite, not just its traditional customer base of service-centered companies. "We are generally focusing on industries with a high percentage of knowledge workers," Lawson said, explaining that such verticals as retail, for example, have a higher percentage of hourly workers, and ERM has been slow to gain traction in those areas.
In its target market of enterprises with 10,000-plus employees, the company is cutting ERM deals with an average price of US$600,000 to $650,000, according to Lawson. Siebel recommends that companies deploy ERM modularly, in phases, starting with areas where ROI (return on investment) is easily demonstrable.