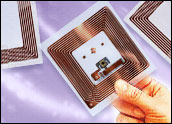 Siemens Business Services, SAP and Intel have announced a new radio frequency identification (RFID) product. Privacy experts, however, continue to express concern about the technology.
The new product allows suppliers to comply with demands from Wal-Mart, Target and German retailer Metro that they attach RFID tags to pallets and, in some cases, individual consumer products.
The package includes consulting, software, hardware and implementation in three different versions.
"The product is mainly for suppliers who have the requirement of being RFID capable and have to have a connection to SAP systems," said Andreas vom Eruch, spokesperson for Siemens. "Suppliers want to be the best suppliers. They are willing to invest in RFID if retailers are."
Reading at a Distance
RFID tags replace bar codes with radio signals, avoiding the need for direct contact and conveying more information. Retailers need fewer employers in warehouses to account for inventory deliveries and exports.
RFIDs on pallets can deliver data on all the individual items bundled to them at one time, from a distance. With barcodes, each item must be scanned individually.
"This is much quicker for the logistics chain," said vom Eruch. It's also more cost-effective. "With goods with high value, there are a lot of losses in the logistics chain [that are passed on] to the end consumer."
Manufacturers, suppliers and retailers receive more information about a product from its RFID tag than from a bar code. For instance, a car on an assembly line fitted with an RFID tag can help the manufacturer determine how far along the car is in the production process.
RFID's Privacy Problem
RFID, however, has created privacy concerns among members of the U.S. Congress, consumer protection agencies and industry watchdogs.
There are worries, for instance, that retailers might place readers outside their stores, allowing them to track customers after they leave. If a device is left on a watch or tube of lipstick, the RFID reader could identify the consumer each time she walks in or near the store carrying that item. There is also the potential that noncompetitive retailers might share information about specific individuals and their shopping habits, compiling extensive databases.
The Electronic Privacy Information Center (EPIC) in Washington, D.C., warned of such risks in testimony before the Federal Communications Commission and Congress in July.
"There is not enough information out there to inform consumers about RFID," Cedric Laurant of EPIC told CRM Buyer. "Seventy-five percent to 80 percent of consumers don't know what RFID is all about and don't know how it can intrude on their privacy. And some companies don't give them enough information."
Wal-Mart and HP
Laurant told CRM Buyer that Wal-Mart puts notices on HP printers — currently the only consumer products in the United States with RFID tags — that express the retailer's concern for consumer privacy. But the notices claim that the tags provide cost savings that Wal-Mart passes along to the consumer.
Laurant isn't mollified by the notices. "It's more of the feel-good kind of language you find on customer privacy policies," he said.
A Privacy Plan
EPIC has delivered a set of RFID guidelines to the Federal Trade Commission, asking the agency to more clearly affirm its jurisdiction of RFID, detail its actions taken to regulate RFID and compile information about the use of RFID.
Congressman Bill Nelson of Florida delivered a Congressional request to the FTC on Monday, backing EPIC's call for a moratorium on RFID tags on consumer products until all stakeholders — legislators, industry groups, manufacturers, retailers and consumers — have an opportunity to assess the issue.
RFID will prove advantageous for consumers, Laurant said, in the form of lower prices on purchases. But consumers need to be informed that the tags might be used to locate and track individuals. People must be encouraged to remove tags after purchase, he told CRM Buyer.
A pilot program at Carrefour Galleria in Germany features RFID tags embedded in price labels on clothing. The labels are removed at time of sale, according to vom Eruch of Siemens. So far, he said, the pilot has been a success.