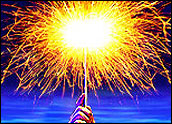 Despite concerns about privacy and fraud, recent U.S. Department of Commerce (DOC) figures seem to confirm that consumers have gotten in the swing of shopping online, and the e-commerce cash register seems set to ring even more often in the future.
Based on a survey of 11,000 retailers, the DOC reported that U.S. online retail sales dropped 11.9 percent in the first three months of 2002, from US$11.178 billion to $9.849 billion. However, sales during the period were 19.3 percent higher than the $8.256 billion recorded in last year's first quarter.
The dip in online sales during the first quarter was likely due to a post-holiday stretch. The DOC's figures were not adjusted to account for seasonal factors.
More Market Share
According to research firm IDC, online retail sales should continue to grow just as briskly in the future. IDC forecast that from 2001 to 2003, sales should jump from about $67 billion to $126 billion.
The DOC report also showed that Web sales are biting more deeply into the overall retail pie. Overall retail sales rose at a fraction of the online rate, achieving just a 2.7 percent increase.
Click, Click, Click
These figures reflect how familiarity with online retail has changed the way consumers shop. Tasks that were once considered futuristic — order books just by clicking a button! — have become as mundane as grocery shopping for some people.
IDC senior analyst Rob Rosenthal told the E-Commerce Times: "I think the novelty has worn off. Now, online shopping is just something people do. It's no longer strange to enter your credit card number into a form, send it off into the ether and have a package show up a few days later."
Band on the Run
Some analysts are less optimistic about a surge in online retail in the future. They cited the low adoption rate of broadband as a sticking point for future growth.
Rosenthal said that although broadband sluggishness may concern online retailers, it is likely to have a greater impact on companies that are touting new types of content or games.
However, he noted: "Sometimes e-commerce is actually harmed by what people are doing with broadband. If I want to buy something, I don't want to look at some flashy animation, it's distracting. Most shopping experiences are not enhanced by what broadband has to offer."
Designed To Sell
Indeed, online retailers have begun to prefer substance over flash. As Internet-based e-commerce strategies have become more standard, companies have begun to eschew flamboyant design for simplicity.
"There's a level of comfort now with how the system works," Rosenthal said. "A lot of site design has been codified, and we're seeing a basic approach for how to lay out a site."
Effective site design and retail success are very much intertwined, Forrester research director Harley Manning told the E-Commerce Times.
"Most sites are still pretty poorly designed," Manning said. "But I think retailers in particular tend to be more aware of the problem. They know that design so clearly connects to whether they meet their business goals."
Getting It Right
As more online retailers employ good design, strong content and a variety of customer service methods, sales figures should continue to climb, according to Manning.
"We're starting to see people do it well," he said. "It will be a long time before all Web sites are equal, especially on the design front, but some are leading the way, and that's pretty exciting."