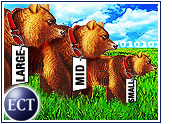 For companies with average revenues of $8.26 billion, the average IT budget hovers around $28.21 million, according to a Gantry Group survey.
Given those numbers, small and medium-sized enterprises may wonder how they can compete in reliable and innovative information technology.
But for a company with annual revenue of $8 million rather than $8 billion, the budget need not be on the same scale as the larger firm — it can be even smaller.
Outsourcing IT
For a small or midsize company to hire a full-time employee charged with network and security administration and software and hardware upgrades, it must budget $50,000 for annual salary and nearly $50,000 more for benefits, training, expenses and temporary consulting when the employee is out sick or on vacation.
At first blush, then, IT budgets do not reside in economies of scale — $100,000 far exceeds the $28,210 that would represent an equivalent percentage of the huge corporation's IT expenditure.
But an alternative exists in outsourced network and security administration. For $10,000 to $15,000 per year, small or midsize firms can count on monthly (or more frequent) on-site evaluation and maintenance of servers, workstations, network security, virus prevention and back up procedures.
IT and Frozen Foods
Gonnella Frozen Foods of Chicago brought its need for network administration to a client advisory board meeting of HighTower Inc. of Lincolnwood, Illinois.
Dennis Marcucci, Gonnella's information services manager, said rather than HighTower provide solutions in times of crisis, he preferred that the vendor find his IT problems before they occurred.
"Before network administration, when Gonnella was being reactive, basically we were in a firefighting mode," he says. "Our network has been operational 24 hours a day [ever] since," with no downed servers or forgotten back-up.
"I have a full-time network administrator without having to have someone on site and at a cost of only $1,000 per month." Emergency care had cost $30,000 per year, Marcucci told CRM Buyer. "It helps give me the insurance I need."
More Experience on the Outside
In addition to its more attractive price tag, outsourced network administration also carries an assurance that the job will get done. Full-time IT employees often complain that they simply don't have time to perform core maintenance and security tasks. And on-site staff often have a limited range of knowledge. External suppliers of network administration can offer a broader base of experience gained in many different environments.
In outsourced relationships, every evaluation, troublesome finding, resolution and suggestion for new hardware and software is documented.
"Our vice president of support services has had people ask him, 'OK, if my server crashes, what do I do? Run me through the solution, step by step. I'll write it down,'" Hightower CEO Jeff Rosengarden told CRM Buyer. They seem to think a spiral notebook can provide their company's insurance against IT disaster.
Long-Range Planning
Computers and servers should to be replaced every three to four years, said Rosengarden, but companies rarely develop long-range budgets and plans for these purchases. They tend to wait for hardware death or data loss to force them into a change.
Such experiences often lead small business owners and their financial officers to label IT as a money pit. But IT can be made to conform to a budget.
"Every month we talk about what we need to do to improve the system. What's nice about it is we have a plan. I'm not asked to do a lot right away," said Marcucci. With HighTower's help, he is evaluating network inventory software now, having just upgraded memory on all of his workstations.
"In the five years since we began offering the service, we have yet to see a network administration client have an emergency," said Rosengarden. "We can predict problems, see them coming."