Twitter Sings Its Own Song on iPhone
MacNewsWorld

Twitter, an application from Twitter, is available for free at the App Store.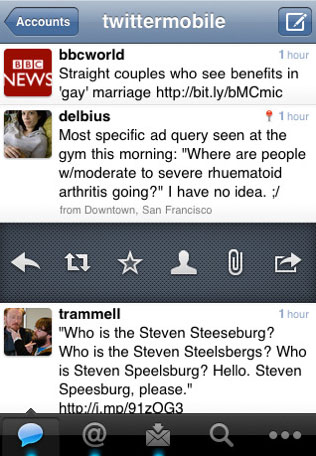 For its first few years of existence, Twitter busied itself with keeping its servers running, its head above water and the Fail Whale at bay. Coming up with new and creative apps for people to use with Twitter was left up to third-party developers, and they had a lot of fun with it.
But Twitter's growing up, and it's decided to take firmer control of its platform by developing some of its own applications. One of the first is an official Twitter-branded app for iPhone. Dozens of Twitter apps have been available for the handset before, but this one comes straight from the bird itself.
Twitter didn't exactly build this app from the ground up. It recently bought Tweetie, a firm that makes (made, actually) a solid and popular Twitter app for iPhone. I never used Tweetie, but the end result is a solid application that makes it easy to pull off all common Twitter tricks and integrate with several complementary services.
What's on the Wire?
On first running Twitter for iPhone, you can sign in with an existing account, create a new one straight from the app, or just search for a topic without signing in.
Once signed on with your name, you're presented with a list of topics: "people and organizations that other Twitter users have found interesting." It seems to be sort of a way to foster followership among newbies. Top Twitterers, organizations, and publications' feeds are listed. It's purely optional.
After that, you're taken straight to your feed, or timeline. Tapping on a tweet will give you the full message. Swiping it displays your options: Reply/Reply to All; Retweet; See the profile of the tweeter; Open/Mail/Repost/Save the link inside the tweet, or Quote/Post Link/Mail Tweet/Translate.
The timeline uses a "Pull down to refresh" system: Scrolling up and pulling the top of the feed down from the top of the screen, then releasing, will refresh the feed. A search bar at the top lets you search just your personal timeline.
Clicking on a link will take you to a within-the-app browser, sort of like how Facebook handles links. The browser does landscape mode, thankfully (take a note, Digg). Options in the browser include opening the page in Safari, mailing a link, reposting the link, and stuffing the page away to read later.
The Act of Tweeting
Hitting the compose button at the top of your timeline next to your user name brings up a typical composition page -- screen plus keypad. This will also do landscape mode. A counter on the lower-right corner of the screen keep track of your 140 character limit. Touch the counter, and the keypad is replaced by six options:
Camera, for attaching a new snapshot
Photo Library, for selecting a picture from your Camera Roll
Geotagging, for sharing your location on your tweet
Hashtags, for tagging your tweet
Shrink URLs, for condensing long website addresses
That last feature, Shrink URLs, works quite well. Several months ago, I reviewed an app called "TwitterFon" (now Echofon) which allowed users to take URLs of sites they find in Safari and send them through the Bit.ly wringer so they'd be easier to tweet. But at the time I reviewed it, setting up that process in TwitterFon was a dog. It took a lot of behind-the-scenes adjustments to get working, and I found it easy to forget exactly how to pull off a Bit.ly conversion if it'd been a long time since I last tried to do one.
Cramming down URLs in Twitter for iPhone is dead simple. Just copy the link from Safari (or the app's built-in browser) and paste it into your tweet. It doesn't matter if you go over the character limit; just hit the "Shrink URLs" option and your links are automatically miniaturized. If you're still over the limit after that, you'll have to trim some text -- or use Twitlonger.
Bottom-Level Options
Besides your basic timeline and composition screens, options along the bottom of the feed bring you to windows like the "@" screen, which shows your mentions, or messages directed at you personally; a section for saving tweets if you'd rather perfect your prose some other time (a la Birdhouse); a search screen for finding topics or names (which also shows a list of currently trending topics and a scrolly little window of recent tweets of the witty, informative and astute variety); and an options menu.
The options menu lets you review your profile information, which includes your followers, those you're following, your retweeted posts, etc. It also has a services menu for info like Overlapr, Favstar.fm, your Tweet Blocker rating, and "Follow Cost," which indexes things like your average tweets per day and your @reply index.
Your Favorites list, a link to your Drafts, and Account Settings options are also found in the menu screen. For a comprehensive instructions on everything the app has and does, go to the options menu and hit Accounts & Settings > Settings > Manual.
Warning: Annoying Popups Ahead
Twitter for iPhone had one annoying habit I had to learn to work around. Each time I went to compose a tweet, the app asked me whether I'd like to allow my location data to be used. This is not something I normally allow on social networks. Once in a while I will, but 99 percent of the time, my reaction is a very sincere "no thanks," and I suspect I'm not the only one with that preference. Yet Twitter kept asking, each and every time I wanted to compose something, and I kept having to tell it ""Don't Allow." Each time I told it no, I got another message telling me that the operation "could not be completed." (kCLErrorDomain error 1.) I just clicked the "OK" button and went about tweeting as usual. Nothing seems to have been affected; it was just an irritating series of pop-ups.
Solution: Just give in and allow it. Apparently an affirmative answer means you won't be asked again. If you haven't set up geotagging in your account and you don't actively select the Geotag option, you location won't be listed. I think. If anyone knows a better way around this -- like some way to eliminate that initial pop-up by default -- the talkback feature on this review is active, as always.
Bottom Line
There are still more Twitter apps in the App Store than anyone in their right mind knows what to do with, and some have highly specialized features that cater to a select niche. Some even have a feature or two on Twitter's own app; EchoFon, for instance, gives you push updates when someone directs a message at you. I'm sure some heavy users would rather quit smoking, drinking and eating than give up the app they're used to.
For those who might consider making a switch (or are just starting out), Twitter's own signature app is straightforward, cleanly designed, and filled with features and integration options that are just stowed away enough that they won't get in your way if you're not interested in setting them up.