Evernote Plumps Up the 'Pad' in iPad
MacNewsWorld

Evernote, an app from Evernote, is available for free at the App Store. With its slim lines and expansive screen, the iPad seems like a perfect high-tech replacement for a paper notepad. That purpose certainly appears to have been in the minds of the tablet's designers. After all, they included a notepad in the unit's core set of applications. Sharing those notes can be problematic, though.
Sure, you can email notes to yourself from the iPad's notepad app, but that's about it. What's needed is a way to synchronize notes from the tablet with other devices. It's what you get with the free Evernote application for the iPad.
Evernote was a pioneer in across-the-board note management. It began as a Web clipping application. You could copy anything in a browser and automatically ship it to your account at Evernote. Then it released a desktop program so that information stored online could be synchronized locally, and vice versa. As other platforms became popular, like the iPhone, Evernote continued to expand its offerings, as it has done with the iPad.
Notes With a Place
When you first open Evernote on the iPad, it asks you to log into your account. If you don't have one, you can set one up from the login screen.
Upon entry into the software, you'll see any notes stored on Evernote's servers on the Internet. A toolbar across the top of the screen allows you to choose how your notes are displayed.
In addition to gazing on all the notes you've stored at Evernote, you can look at the notebooks in which you've stashed notes. Any number of notes can be stored in a notebook.
When you tap a notebook, a screen will appear with the notebook's notes listed on the left and the content of a selected note on the right. Poking the "view options" tab allows you to sort the notes by date updated or created, notebook, title, city or country. You can also choose to see just a note's thumbnail or its thumbnail and details like title, last update and tags.
At the top of the screen is a search field that permits you to find words in either a notebook or in all your notes. Below the search field is a link for revealing more detailed information about a note, including the longitude and latitude at which it was created and a map link to that location.
To create a note, you tap a button at the bottom of the screen. You fill in the title, notebook where you want to file the note and tags for it. New notebooks can't be created from within the program, which is irritating. However, you can login to Evernote with iPad Safari and create a new notebook that way.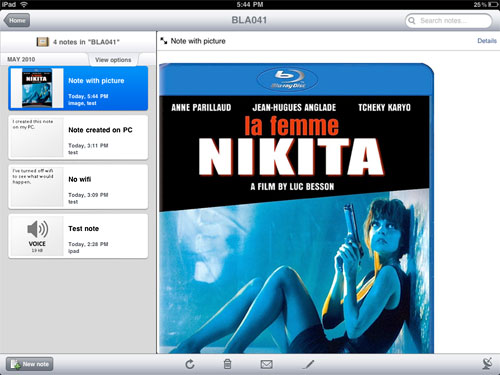 Evernote for iPad
Beyond Text Notes
Notes need not be limited to text. Photos from the iPad can be easily imported into notes with the poke of an icon. You can add audio to a note with the iPad's built-in microphone. Unfortunately, there's no Evernote plug-in for iPad Safari, so material from Web pages can't be directly shipped as notes to an Evernote account.
Also on the new note tool bar are icons for trashing notes, editing them and sending them as email. Email from within Evernote is facilitated by the program's integration with the iPad's address book.
In addition, there's an icon for synchronizing notes between the iPad and your Evernote account. When your iPad isn't connected to the Internet, Evernote will wait until it is to perform a sync.
The sync menu also serves as a grab-bag of information for the program. If you have a free account, for instance, you can see your monthly upload limits and current usage. Your Evernote email address is there, too, for emailing notes directly into your account.
Besides displaying all your notes and notebooks, the software will sort them by tag, places they were created and by search. When you perform a search, you can save it for future use.
Evernote gives the iPad a 21st century notepad, one that can be shared across platforms with Web-based synchronization; one that uses tagging and custom search folders, as well as notebooks, to organize notes. Although it lacks the ability to create notebooks from within the program and the Web clipping features of its desktop versions, Evernote for the iPad will be one of those programs that you'll use daily once you install it.