Flipboard Jumped the Gun
MacNewsWorld

Flipboard, an app from Flipboard, is available for free at the App Store.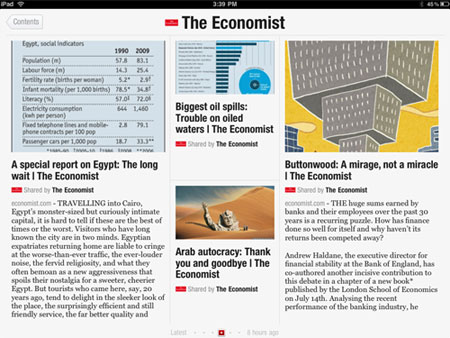 Flipboard
The idea of an online magazine with content that can be customized by its readers has been around for years. The execution of that idea, though, has produced less than stellar results. That may be about to change with a new free application released this week for the iPad called "Flipboard."
Flipboard combines information from Facebook and Twitter to create a personalized magazine on the iPad -- a "social" magazine, as the service calls it. While gleaning information from social network feeds is a new twist on the customized content theme, what really distinguishes Flipboard from other efforts in this vein is the stylish way it's able lay out that information -- in either portrait or landscape mode -- on the iPad's display.
"With over 1 billion messages posted every day, social networks are quickly becoming the primary way people discover and share content on the Web," Flipboard's CEO Mike McCue said. "The result is a huge influx of incoming messages and links people must sort through across multiple websites just to stay up to date.
"We believe the timeless principles of print can make social media less noisy, more visually compelling and ultimately more mainstream," he added.
It's unusual these days to hear anyone praising any aspect of print, but all one has to do is compare a Web page of Tweets to a Flipboard page to know what McCue is talking about. On a noise scale of 100, the Twitter page is a 100 and Flipboard less than zero.
Facebook, Twitter Failures
At this point in its development, though, Flipboard is still a work in progress. After a day's trying to register my Facebook and Twitter accounts with the service and finally succeeding, it still wouldn't perform its design magic on my accounts with those socnets.
When you open up Flipboard, you're greeted with a full screen slide show of photos nabbed from the feeds monitored by the program. Moving from the cover splash screen to the contents of your magazine can be confusing. A tab labeled "flip" is on the right side of the display, but tapping it "lifts" the page slightly and returns to the cover. It's as if the app doesn't have the energy to turn the page. With a proper swipe, though, the page turns crisply to reveal the table of contents for your magazine.
The contents is organized into nine sections, each displayed as large thumbnails. There are several sections aggregated by Flipboard -- FlipTech, FlipPhotos, FlipNews and such.
Two sections require you to enter your Facebook and Twitter login information. Once that's done, information from those services will be funneled into those sections and formatted by Flipboard. Unfortunately, those sections didn't work in my version of the app.
Dead End Content
Sections can be added or deleted from the contents page by tapping the Edit button. When you choose to add a section, a menu pops up with recommendations. They include more Flip offerings -- FlipStyle, FlipGreen, and so forth -- as well as GigaOM, The Economist and some feeds from Robert Scoble, who shamelessly raved about the service prior to its launch. Some of the recommendations -- AllThingsD and Hacker News, for instance -- display no content when added to the magazine.
You can also search for feeds to add to your contents. However, you need to be logged into Twitter for that feature to work. And even then, the feeds may display no content after a while.
Inside a section, you'll find information from a feed attractively displayed with headlines and teasers. Tapping a story will display it full screen. From that screen, you can add a comment about the story, email it to someone or retweet it on Twitter. You can also choose to read it on the Web. When you do that, the article is displayed in Flipboard's built-in browser, but once in that browser, you can choose to view the piece in Safari.
Moving through the magazine is as quick and easy as swiping a page.
It Just Doesn't Work
As flawed as Flipboard's launch has been, its potential remains undeniable. A telling sign of that is the US$10.5 million it has raised for operations from Kleiner Perkins Caufield & Byers, Index Ventures and some other prominent angel investors.
Moreover, it's showing that it isn't afraid to bolster its technology through acquisition. At the same time it was rolling Flipboard out the door, the company announced the acquisition of Ellerdale, which has produced a relevance engine incorporating real-time search and discovery tools based on Twitter. That should improve Flipboard's ability to prioritize information for individual readers.
Flipboard is an alluring application with lots of potential. Still, before its brain trust let it out of the box, they should have heeded Apple's mantra, "It Just Works," instead of creating one of their own: "It Just Doesn't Work, Yet."