Acrossair: Getting There Is Half the Fun
MacNewsWorld

Acrossair, an app from Acrossair, is available for free at the App Store.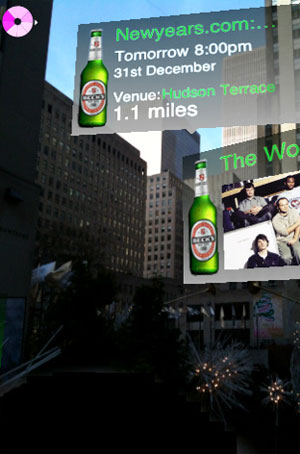 When I first heard the term "augmented reality," I expected nothing short of corneal implants and tiny, cloud-connected computer systems that run on body heat and live just under your skin. I imagined something that would add layers upon layers of information to the visual world we see every day -- every face we lay eyes on would be tagged with vital contact info, Facebook posts, musical tastes and all sorts of useless trivia. Any physical task we weren't sure how to accomplish would be glossed with on-the-spot how-to instructions. Common objects we encounter would be priced by Amazon, eBay and at least four other e-vendors. It sounded really futuristic, so I was careful not to let myself get too excited until next October. All the good stuff comes out in October.
The reality, of course, isn't nearly so ... I don't know ... Gibsonian. What augmented reality amounts to today can be seen in mobile apps like Layar and Acrossair. They basically offer a more visually interesting way to conduct a mobile search. Instead of looking down at a map to see the nearest whatever-it-is-you're-looking-for, you look through the iPhone's screen. The camera looks out at the world, the sensors figure out which way you're pointing, the app overlays information about nearby things of interest, and you see a land bedecked with signs and clickable links. More or less.
Acrossair has been in the App Store for a while, but it's improved its performance with an update that makes it compatible with the iPhone 4's gyroscope.
Where Do You Want to Go?
As you start up Acrossair, you're given a list of things to look for. There appear to be a few sponsored entries from the likes of FedEx, YouTube, Beck's, etc. (finding store locations, videos shot near you, and nearby live music, respectively). Others will show you what people around you are tweeting (the ones with location enabled, anyway), the Foursquare activity in your vicinity, Wikipedia entries on nearby points of interest, and a car-finder that can guide you back to your parking spot after a long night's wandering.
Further down the list you'll see more general categories -- bars, coffee shops, hotels, gas, etc. Tap any of these and you'll be given several options for search providers. The usual suspects are Google, Yelp, Qype and Bing, though brand-specific searches are present in some categories ("Pharmacies" has options for CVS and Walgreens, for example).
Toward the bottom, you'll see options for subscribing to specific RSS feeds, adjusting your results range and dabbling with the app's settings.
Another item on this options list -- oddly situated as the second entry from the top, just beneath your most recent search -- lets you change the way results are displayed. You can view it as a usual augmented reality image, as a simple list of nearby results, or as a more traditional top-down map, courtesy of Google Maps.
Reality, Augmented With Lots of Billboards
Naturally, the standard Acrossair view is the most fun -- without it, it's just another mobile search app. You'll see various signs floating in mid-air around you, guiding you toward a relevant location. Maybe it's right in front of you, maybe it's three miles thataway. The app's compatibility with the iPhone 4's gyroscope makes the image quite smooth as you pan around the scene. There's still some giggle and wobble here and there, but it's a noticeable improvement over the 3GS, in which the app could only use the compass.
Sometimes you'll get a LOT of results, and instead of just cluttering up the view with information until all you can see is 99 percent augment and 1 percent reality, Acrossair simply stacks the signs on top of each other, high up into the sky. Tilt the iPhone upward to see them; touch the screen and slide vertically to scroll through. In fact, if you don't feel like making yourself dizzy by doing a 360 just to see everything around you, horizontal finger-scrolling also works. The signs will realign to their original directions once you turn the phone a few degrees.
The notes you see on the screen don't always seem to line up perfectly with their real-world locations. I stood directly across the street from a business I'd searched for, and Acrossair was telling me it was about half a block over. That might be due to the GPS hardware in the iPhone itself -- it gets you where you want to go, but it's not exactly military grade.
Regardless of how you view your search results, each can be clicked to gain further information: specific address, phone number (with direct dialing), reviews and so forth. A line of icons at the bottom of the display lets you do things like tweet your findings, share them with others, get directions or view the location on a map.
Selecting either of these location options (map or directions) strangely takes you to Google Maps' mobile Web page, rather than the more deeply built-in version of Google Maps you get as a direct view option mentioned above. It's a familiar-enough layout, but it doesn't interact with the phone's built-in compass.
Bottom Line
If we're just talking about end results -- finding out what's going on nearby and figuring out how to get there -- Acrossair doesn't seem to provide anything that's not offered by other mobile search apps like Yelp, or even the iPhone's built-in Maps app.
But Acrossair does make itself a little more fun to use with its augmented reality schtick, which is greatly improved with the iPhone 4's gyroscope. It also packs a lot of different search options into a single app, so it's convenient to use even at times when you'd rather not deal with the AR business -- just switch to the list or overhead map view and do your thing. As a free app, it's definitely worth a shot.