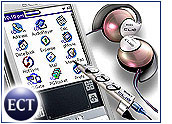 Sony today said it will stop developing and selling new handheld PDAs in the United States this year, exiting what the company called "a market in decline" and possibly striking a blow to software maker PalmSource.
Sony, one of the world's largest manufacturers of consumer electronics, said it will continue to introduce new Clie models in Japan, where it faces less competition from rivals such as PalmOne, the world's largest manufacturer maker of PDAs.
"Sony is reassessing the direction of the conventional PDA market, and Sony will not introduce any new Sony Clie handheld models in the United States this fall," the company said in a statement.
The company said that it will focus on developing mobile devices with wireless features, and will continue to collaborate with wireless phone marker Sony Ericcson.
The move potentially shrinks the number of new handhelds that will be powered by software maker PalmSource, which counts Sony as its second biggest licensee, after palmOne.
The market for handhelds has been in decline of late, with worldwide shipments falling 21 percent to 2.45 million units in the first quarter, according to research firm IDC. Demand in the business and consumer markets has cooled despite new devices and lower prices.
In the first quarter, according to the IDC report, Sony lost its No. 2 market share position to Hewlett-Packard. HP has about 18 percent of the market, and Sony has slightly more than 16 percent. Palm maintains its No. 1 position in the PDA market with 36 percent.