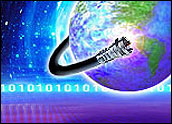 Sony Electronics and the six largest U.S. cable companies have signed an agreement that paves the way toward allowing consumers to view interactive digital and high-definition video services on "two-way" devices without a set-top box, the companies announced Tuesday.
The agreement lays the groundwork for a competitive retail market for two-way digital cable-ready devices and addresses how such products will be brought to market with interactive services like video-on-demand, digital video recording and interactive programming guides.
The terms of the agreement are embodied in a binding memorandum of understanding negotiated by Sony along with Comcast, Time Warner Cable, Cox, Charter, Cablevision and Bright House Networks, which together serve more than 82 percent of all U.S. cable subscribers.
Other consumer electronics companies have been invited to formally join the MOU as well, the companies said.
National Standard
"This marketplace agreement is good news for consumers," said Edgar Tu, Sony Electronics' senior vice president of TV operations of America. "A national plug-and-play digital cable standard for interactive TV receivers, recorders and other products that is transferable and viable wherever you live is ideal for today's mobile society."
Detailed terms of the MOU have not yet been released while other potential signatories complete their review of the document. However, the cable companies did announce that they will adopt Java-based "tru2way" as the national interactive "plug-and-play" standard.
They will also embrace new, streamlined technology licenses and new ways for content providers, consumer electronics manufacturers, information technology companies and cable operators to cooperate in evolving the tru2way technology at Cable Television Laboratories (CableLabs), the cable industry's research and development consortium.
In addition, the agreement includes safeguards to facilitate the development of a robust, two-way retail market and to ensure that cable operators can continue to develop and offer new competitive services.
Focusing on content, key elements of the agreement relate to the deployment of a platform for "write once, run anywhere" applications, and to the incorporation of secure digital interfaces that protect rights on both sides.
Strength in Numbers
The announcement "definitely adds a major consumer-electronics player into the mix of companies that have been dabbling with tru2way for the past few years," Kurt Scherf, vice president and principal analyst with Parks Associates, told TechNewsWorld.
Panasonic has been involved for some time, and the addition of Sony is "good news," he added.
Consumer-electronics vendors have felt some frustration at the work they've had to do to develop the products, and "have felt like they're doing the cable industry a favor by eliminating the need for set-top boxes," Scherf said.
"I think they'd like more support from the cable industry in the form of promotions, etc.," he added. "Maybe with more CE players they'll have a greater level of strength for negotiations."
'A Huge Development'
Indeed, "this is a huge development and a big breakthrough that is starting to deliver on the promise of Open Cable," Gerry Kaufhold, principal analyst with In-Stat, told TechNewsWorld.
"People don't give the cable industry credit for being visionary, but they started working on this in the mid-90s," Kaufhold explained. "It took vision from people in the industry to fund this thing and keep pushing it forward, inch by inch."
The technology to hook up the TV to the cable system has been available for a while, he noted, but "security has been the big issue." With tru2way, those security issues have been resolved, he added.
Mobile Content Possibilities
Looking forward, with the approval of this standard, "we've now started to bridge the gap from cable to the consumer electronics industry, and that opens the door for the cable guys to sell content to portable devices," Kaufhold said.
Whereas currently a subscriber to Comcast would have to get movies for use on a portable device from iTunes, for example, "with tru2way, eventually we'll get to a point where whatever you get on your TV set from Comcast you can probably also get to your portable media player through your cable modem service," Kaufhold explained. "Suddenly, consumers will love their cable operators because they can get all their content from one place and don't have to pay twice for it."