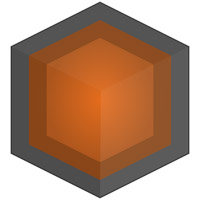 Springseed is a simple note-taking app for Linux that features full Markdown language support.Most Linux note and text-editing tools do not incorporate Markdown symbols. The real beauty of this feature is that you do not have to use it. You still have a minimalistic yet very efficient note-taking tool that doubles as a Markdown editor.
The Markdown language, created in 2004, lets you write easy-to-use codes in plain text format. This method lets you convert the text to structurally valid XHTML or HTML display if needed.
The idea is to work with text that is readable as is without appearing with tags or formatting instructions added in lengthy bracketed strings of code. It's the opposite of the approach taken by text bearing markup codes such as HTML.
Springseed first appeared as a new project in late 2012. Its now 17-year-old developer Micheal Harker and codeveloper Jono Cooper quickly gained recognition in the Linux community as adoption spread through 100 countries.
Harker released version 2.0 a few weeks ago. This open source app is currently available only on Linux distros that support .deb packages. This current version is the first stable release since February.
Feature Highlights
Springseed uses a minimalistic user interface for writing, storing and categorizing content. You can use it to create and store research and personal notes, journal thoughts, code snippets and anything else generated as text.
It is easy to synchronize notes between computers using the built-in automatic Dropbox sync feature. This is a very handy process. Just click the tiny gear wheel at the bottom of the app window. Once you add your Dropbox account password, a Springseed folder is installed.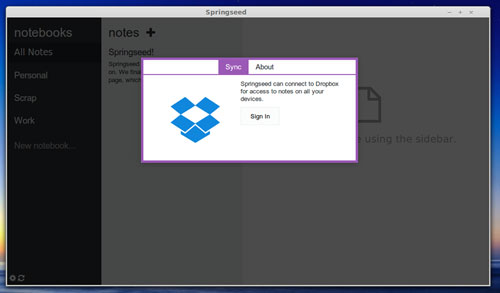 Springseed automatically saves and uploads all new notes and content changes to your Dropbox account.
The features include a word count. This is a must-have feature that many text editors and note-taking apps overlook.
Keep in mind that Springseed uses a minimalistic design. This contributes to its quick and simple usefulness. You will not need any learning time. Its purpose is entering text, not creating a note within a gawky document display.
Look and Feel
The interface in this latest release looks a bit dark and angular. Earlier versions offered a light color scheme and custom window frames.
Those gave way to a dark sidebar with large typography, native window borders and a boxier yet flatter design. It has colorful accents in the edit window and high-contrast icons.
The minimalistic design is very effective. The UI has no menus to drop down, no icon row of features and no right-click options.
The resizable app window has three display areas. The extreme left column lists all the existing notebooks. The middle area displays a list of notes for the selected notebook. The extreme right area displays the selected note.
Using It
The left column has a black background with white lettering. A selected notebook displays with a darker black highlighting. The center and right display areas show black lettering against a white background. The note title in the right column uses white lettering against a light purple background.
The default Springseed window displays All Notes, Personal, Scrap and Work in the dark left column. Create a new one by clicking the New Notebook label at the bottom.
The middle column lists all notes for the selected notebook. Click on any note to see its contents appear in the otherwise empty far-right column. Click the big, bold plus sign at the top of the middle column to add a new note in that category.
Enter new notes by filling in the title space and typing the note in the window below the title. Springseed automatically saves the note.
Editing Tools
I was very pleased with how simple it was to edit and format the text in Springseed. The Markdown symbols are optional. I can enter them as I type my content, or I can add them later by simply inserting what I want to do.
Three icons display on the far right of the note title block. A pencil or padlock icon depends on the mode you are using. Click whichever one is visible to change modes. The pencil icon loads the text mode.
When in text mode, clicking the padlock icon loads the formatted, or WYSIWYG, mode. In text mode, any inserted Markdown symbols show in unformatted text display. The other mode displays the formatting.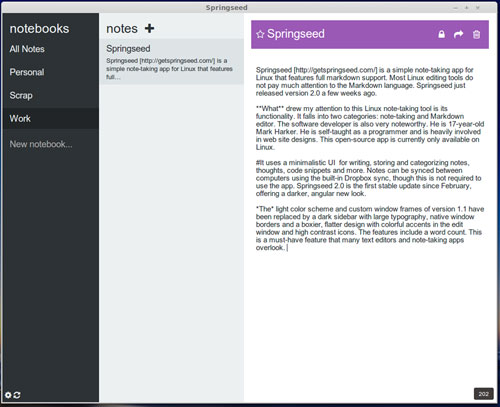 This is how notes display in unformatted text mode.
A forward or right-pointing arrow pops open a red-bordered dialogue box asking it you want to revert to the last text change or keep the present text. The trash can icon deletes the note after you've selected that option in a similar dialogue box.
Marking Down Text
Using Markdown codes takes almost no learning. The application includes several basic notes showing the basic Markdown functionality. Look at it and do the same in your notes — it is that easy.
For example, place a hash tag symbol, or #, in front and after a word or string of words you want to display in larger text. This is ideal for writing a title.
Use a single asterisk, or *, before and after text you want displayed as italicized text. Use a double asterisk, or **, before and after text you want displayed in bold text.
Other symbols will format text with color and various attributes, such as shades of highlighting — but to learn these, you'll need to find a tutorial. None is provided with Springseed.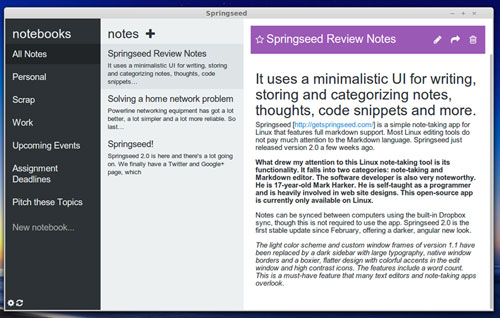 Markdown language symbols convert text in formatted display.
This is an area that would well serve new users. Even including a short document showing the symbols for other formatting would be a solid user aid.
Behind the Scenes
Springseed works very well. It is unquestionably on a par with other basic text editors and note-taking apps I have used that do not have the Markdown functionality.
Why such a minimalistic design? Harker believes there is an art to simplicity. He focuses on minimalism in his applications because he lives a simple life and enjoys that approach.
"I think the same is true for software. If it's simple and easy to use, it will be enjoyable, and that's my main focal point," Harker told LinuxInsider.
Markdown is a way to quickly and easily create notes without having the hassle of lots of buttons and options, he noted. He is completely self-taught.
What Is Next
Harker has no plans to embellish Springseed beyond its minimalistic trappings, but he plans to add a few more features in the next release.
For example, he is thinking of branching out and providing more sync services. He also will add a native client.
Harker also is thinking about branching the code base to Android. He wants to make some sort of cool sync service, perhaps along the lines of Wunderlist or Day One for OS X.
Bottom Line
Springseed is a handy tool for writing content for the Web. Sure, full-featured programs and Web-based services let you do this, but Springseed is self-contained on your computer.
Springseed also is a very quick and efficient note-taking tool. By design, it lacks clutter and distractions that take your mind off entering your thoughts.
This is a good example of a Linux application that's a super tool for a simple task.
Want to Suggest a Review?
Is there a Linux software application or distro you'd like to suggest for review? Something you love or would like to get to know?
Please email your ideas to me, and I'll consider them for a future Linux Picks and Pans column.
And use the Talkback feature below to add your comments!