Square announced Tuesday it would reach out to retail outlets with its new Square Stand, an iPad dock that can handle business transactions and customer analytics. The mobile payments processing startup said small and medium-sized businesses would be able to collect customer loyalty information when they ring up sales.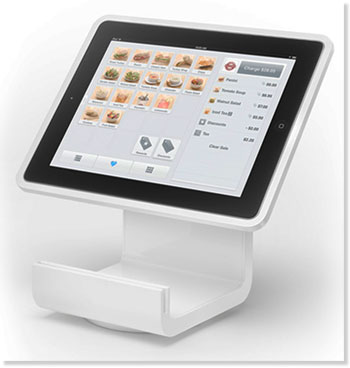 The Square Stand
Square Stand replaces the cash register. The stand mounts to a counter, has a built-in reader for credit cards, and connects to accessories like a barcode scanner and receipt printer. It is compatible with second and third generation iPads, and a version for iPads with Lightning connectors will be available later in the year. Each unit costs US$299.
Stand works with Square Register, a free point-of-sale app that provides the transactional capabilities as well as customer analytics and management of loyalty programs.
Brick and Mortar
The first Square Stand installations will be in place this week. Square named 13 businesses across the country that have committed. Several of the customers are single location shops such as Bang Bang Pie Shop in Chicago, and 7 Seas Brewery in Seattle.
Blue Bottle Coffee with eight locations in the Bay Area and New York City will also get new Square Stand POS systems installed on Wednesday. The company is taking pre-orders at its website.
"It really shows that Square is moving in the direction that brick and mortar is adopting Square," Square spokesperson Faryl Ury told the E-Commerce Times. "Larger brick and mortar merchants are increasingly ripping out their old register and replacing it with an iPad, and now with an iPad stand."
The new product could be attractive to new businesses.
"Its core base of customers are those that have not invested in a POS system. We've seen Square with Register and everything else moving up the value chain," Peter Krasilovsky, VP at analyst firm BIA/Kelsey, told the E-Commerce Times. "I thought it was smart that they reinforced their iPad presence. So many small businesses are adding iPads to their businesses. The key thing is this fits into Square's overall effort to add value to existing payment systems, and is part of a broader piece."
Charge Rate
Square charges a 2.75 percent fee on credit card purchases, which bundles all fees. Merchant fees for credit cards typically vary. Cardfellow.com lists fees ranging from an interchange fee of 1.51 percent to 1.95 percent, plus a transaction fee of 10 cents for each credit card transaction. However, the rate varies by card type and vendor.
Transaction fees, as well as the cost of the unit itself, could loom large for small businesses.
"Cost and ease of use is a big factor," Greg Sterling, principal analyst at Sterling Market Intelligence, told the E-Commerce Times. "On the back end, if you're getting a lot of value out of a service that wasn't previously provided by your cash register, such as analytics and customer data [that's useful]."
Many small businesses are grudgingly taking credit cards "because of the fees," he said. "Rationally they understand that credit card users pay more, there's still resentment. Any cost increase as a result of switching systems is going to be something they are sensitive to."
iPad Swipe
The transition to an iPad-based system may be a natural move for some businesses.
"This is the trend in the marketplace," said Sterling. "There's this perception, these business owners who have iPads themselves in a consumer capacity, and younger people starting businesses, we will see this over the course of time where you will see more of these iPad-based or tablet-based systems taking over the clunky, big traditional cash register."
Adoption is another hurdle. While the system is simple, "The only roadblock is that people are still confused how to work with Square," Krasilovsky said. "So it requires a learning curve or competence level. That's just one of the long term challenges for them."
The learning curve won't be too much of a hurdle for businesses looking for a simpler solution. The iPad, or tablet-based POS system, is part of the evolution for retail and small businesses.
"I don't think this is a huge development in itself," Krasilovsky added, "but it reinforces all other developments."