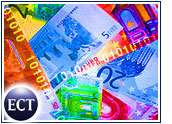 Financial software provider BizCurrency said Tuesday that it is offering foreign currency exchanges for transactions conducted through online business-to-business (B2B) marketplaces.
"The online foreign exchange capability is a cash-based payment alternative for buyers and sellers on online marketplaces," BizCurrency vice president of strategic development Joe Perry told the E-Commerce Times.
According to Perry, the service is meant to meet the need for cash-based payment methods, versus credit-based, "because credit-based transactions actually hinder theefficiency promised by online marketplaces."
According to Fritz McCormick, analyst at e-financialresearch firm Celent Communications, BizCurrency islooking to leverage the marked increase in volume ofcorporations requiring online foreign exchange services.
"Many financial institutions have their own back-end systems that handle multi-currencytransactions," McCormick told the E-Commerce Times. "But it is unclear how many are Web-enabled. That is the big question and is where [there is potential] for value."
Risky Business
In many cases, payments for goods bought on online marketplaces are often taken offline due to the high price and associated risk. Perry said that with a cash-based system, buyers and sellers can expedite transactions more independently, without as much intervention from financial institutions handling the credit aspects of the deal.
McCormick said that there is significant risk associated with international transactions, especially when they involve goods costing upwards of tens of thousands of dollars, as is often the case in online business marketplaces.
Some of that risk stems from simply not knowing the international vendor. Further, there is settlement risk, which comes into play after a transaction is completed between a buyer and a seller. Typically, international trading partners have relied on a realtime gross settlement (RTGS) system, under which money is transferred from the buyer to a foreign account owned by the seller.
"The threat is that the financial institution can default, or RTGS can fail, before the transaction is done," said McCormick. "Then, the buyer is out of luck."
Branching Out
Perry suggested that his company's online payment methods, including the newly announced foreign exchange capability, work to mitigate many of theserisks associated with international trade.
"Buyers and sellers will be able to transact online, regardless of where their financial institutions are located," said Perry. "And the workflow associated with the transaction (including foreign exchange) can be distributed throughout the financial branches inour network."
Perry added that TradeEnabler, as BizCurrency's payment platform is known, also provides a multicurrency account to buyers and sellers, in addition to the workflow solution, so that they do not immediately have to conduct a foreign exchange deal to complete a transaction.
All the Trimmings
In addition to risks, costs have been another obstacle in the foreign exchange industry. Indeed, Celent's McCormick noted that costs are incurred by the buyer and seller at every stage of an international transaction, and that to cut some of those costs out would add real value to the process.
Banking on its Web-based application service provider (ASP) model, BizCurrency aims to allow financial institutions to offer online foreign exchange services to B2B marketplaces, without the expense and overhead normally associated with the implementation and maintenance of traditional offline foreign exchange systems.
Seeing is Believing
BizCurrency vice president of marketing Andrew Anson told the E-Commerce Times that TradeEnabler addresses another dilemma in international trade: availabilityof status information.
"A good analogy is checking the status of a FedEx delivery at every stage of the process," Anson said. "With our payment options (including foreign exchange), transaction status is transparent to everyone involved, so it allows people to respond tothat information more quickly."
Pasadena, California-based BizCurrency's TradeEnabler, which manages transactions and related workflow among anonymous business partners, is being used by several B2B marketplaces, including AllProducts.com, TradeEasy and WorldCatch.