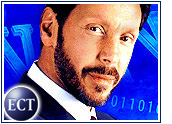 Oracle Corp. (Nasdaq: ORCL) rose 1 1/16to 28 9/16 Friday after the software maker reportedsolid results for the second fiscal quarter.
Analysts at Lehman Brothers and Prudential Securities reportedly repeatedfavorable recommendations on the stock following the news, with Lehmancalling the shares a buy and Prudential touting them as a strong buy.
The Redwood Shores, California-based company said net income for the quarterended November 30th rose 62 percent from a year earlier to US$623 million, or 11cents per share. Revenue rose to $2.7 billion from $2.3 billion.
"Our applications business is strong and getting stronger," said chiefexecutive officer Larry Ellison. "Oracle's new e-business suite puts everyaspect of a business — marketing, sales, service, procurement, supplychain, manufacturing, accounting, human resources — everything, on theInternet."
Customers buying the suite, Ellison said, "don't need to do any systemsintegration."
"This quarter's results prove that we're winning more and more of thesebest-of-breed battles against Ariba, i2, Siebel and other nichespecialists," Ellison continued. "Once a customer uses one of ourapplications, it's just a matter of time before they move to the entiresuite."
Oracle's cheery news came as software giant Microsoft Corp. saw its sharesfall 6 5/16 to 49 3/16 after the company warned of a soft December quarter, its first such warning in 10 years. Other companies in the computers,components and software sector are also seeing tough times as sales of personalcomputers slow.
"We believe, like many other technology companies, that the current weaknessin worldwide economic conditions is resulting in a slowdown in PC sales,corporate IT spending, and consumer online servicesand advertising," said Microsoft chief financial officer John Connors.