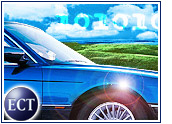 Auto dealers are not using the Internet to their best advantage when seeking to lure customers to their dealerships, according to a study released Wednesday by research firm J.D. Power and Associates.
A key issue is that car dealers generally do not have a good idea of how they can use Internet-related technology to improve results, according to the study.
The study "clearly illustrates the need for computer software companies to spend less time developing bells and whistles for their products and more time educating dealers how to use their systems," J.D. Power partner Chris Denove said.
"Our original goal was to conduct detailed interviews with Internet managers about how well their lead management provider performed individual functions, such as appointment calendaring and e-mail auto responses," Denove said. "Unfortunately, it became apparent early on that many Internet managers aren't even familiar with most of the tools offered by their providers."
Added Denove: "Most managers are barely aware that their lead management system is anything beyond a big inbox for their e-mails."
At the same time, the study — an annual survey of dealer satisfaction with online buying services — found that car dealers are turning to the Internet more, with 61 percent signed up with at least one independent online buying service. A year ago, the figure was 55 percent.
Manufacturers Catching Up
In addition to dealers, car manufacturers are also making greater use of the Web. In 1999, only a few manufacturer sites featured a dealer-referral service, but now nearly every manufacturer's site refers potential buyers to dealers.
Dealers are becoming more satisfied with manufacturer-buying services, the study found. Three-fourths of the manufacturers' Web sites scored above the industry average in the latest dealer survey, up from just one-third of sites a year ago, as manufacturers play "catch-up" to independent online buying services.
"We've suspected from the beginning that automobile manufacturers would not stand idly by and let third parties control the sales process," Denove said.
Denove added that "overall, dealers still receive more business from independents, but the manufacturer services are gaining quickly and will continue to gain share in the coming years."
Beware of Buyers
Dealers do not see the Internet as a significant boon for luring car buyers, according to the study. Dealers tend to view car buyers who make initial contact with them over the Internet as "fickle customers who contact multiple dealers in search of unrealistic discounts."
Car dealers have good reason for that view, Denove said, as only 10.4 percent of Internet inquiries result in the sale of a new car.
"On average, a dealer is more likely to sell a vehicle to a stranger who walks in off the street than an Internet shopper who comes in through the dealership's 'cyber door,'" said Denove.
Internet customers do visit more dealers than offline customers do, and usually end up receiving greater discounts, the study found.
AutoNation Leads
Among individual services for dealers, AutoNation ranked highest in overall satisfaction, according to the study.
Dealers rated Web sites for 14 separate attributes, ranging from speed of lead delivery to technical support, with the average score (on a scale ranging to 1,000) coming in at 532. AutoNation, which rated 655, was cited for its "extensive dealer-training programs," as well as for providing a high level of business and strong dealer support.
Autobytel fell to seventh place in overall satisfaction, after ranking No. 1 in each of the past three years the study has been conducted. However, the site still provides more new-vehicle leads to dealers than any other service, J.D. Power said.
Among manufacturer-operated sites, Volkswagen's VW.com was ranked highest, finishing second in overall satsifaction.
Indies Drive Used Cars
Dealers said they receive "higher quality" leads from their own Web sites than from independent buying services. On average, they reported 21 new-vehicle leads per month from their own Web sites, which is more than they get from manufacturer services but fewer than the number provided by independents.
The closing ratio for leads generated through manufacturers tends to be higher than for leads from independent services, the study found. An exception was CarsDirect.com, which has a higher closing ratio than any other service.
Used-car services "continue to be dominated" by independent companies, said J.D. Power. However, the study said that this trend might shift as manufacturers discover the benefits of the Internet in marketing their "certified" used-vehicle programs.
Cars.com provides the most used-vehicle leads per dealer, though more dealers use AutoTrader.com, according to J.D. Power.