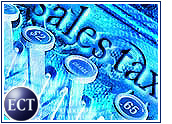 Although some e-tailers argue that imposing a sales tax on Internet purchases would cause online sales to plummet, a study released Tuesday by Jupiter Media Metrix concluded that most consumers are indifferent to the presence of an online sales tax.
Jupiter's survey of consumers who had abandoned a shopping cart found that 74 percent do not consider sales tax an issue for smaller purchases — although the survey did find that 21 percent of consumers had abandoned one e-tailer in favor of another to avoid paying sales tax on purchases under US$50.
Charles Collins, director of the Sales and Use Tax Division of the North Carolina Department of Revenue, told the E-Commerce Times that the Jupiter study backed up "other statistics" indicating that taxing e-commerce will not affect online sales.
"Most consumers buy online for convenience," Collins said.
The True Story
Although many consumers and e-tailers believe that online purchases are exempt from all taxation, that is not actually the case.
At present, remote sellers are only required to collect sales tax if they have a physical presence in the purchaser's state — thereby exempting Internet pure plays from tax collection duties in most states.
Bolstering Jupiter's claim that sales tax does not matter to most consumers, six of the top 10 most visited retail Web sites in March — including BarnesandNoble.com, Apple.com and HP.com — were multichannel retailers that are already required to collect tax in certain markets.
Brick vs. Click
"Many brick-and-mortar retail companies launched separate online businesses in order to compete with nimble Internet-only retailers sheltered under the Internet Tax Freedom Act," Jupiter analyst Heather Dougherty said. "But times have changed. The Tax Freedom Act, which intended to protect nascent Internet companies and stimulate e-commerce, is set to expire."
Dougherty added: "The threat of Internet-only retailers now is miniscule; and state and local governments are feeling the sting of lost tax dollars."
According to Dougherty, if the end of the tax-free Internet is approaching, retailers would be well advised to merge their online and offline tax-calculation and tax-collection capabilities, as well as integrate their Web and in-store functions, in order to streamline customer service and business operations.
Under existing laws, state and local governments risk losing up to $7.7 billion in tax revenues, or 7 percent of total sales tax revenue, from online sales in 2005, according to Jupiter.
Changes Coming
While Internet pure plays are exempt from taxes in states where they do not have a physical presence under current law, Collins said that could soon change.
He said that several bills have been introduced into the U.S. Senate's Commerce Committee that would allow states to require out-of-state e-tailers to collect and pay sales tax.
Collins said that if such a bill passed, it would most likely include a list of requirements — designed to make the tax collection and reporting process easier — that states would have to meet before they were allowed to tax out-of-state e-tailers.
One Way
Some of these requirements are included in the Streamlined Sales Tax Proposal (SSTP), a plan designed to simplify the sales tax process for both online and offline businesses.
Provisions of the SSTP include requiring states to limit the frequency of tax rate changes, as well as the use of one tax form for all participating states.
Collins, who is the co-chair for the SSTP steering committee, said that five U.S. states, namely Wyoming, Kentucky, Utah, Arkansas and North Dakota, have already passed sales tax legislation based on the proposal. Collins also said that similar legislation is pending in an additional 20 states.