SugarCRM has released an upgrade to Sugar 6, expanding its CRM suite with new features that will build up its social bona fides.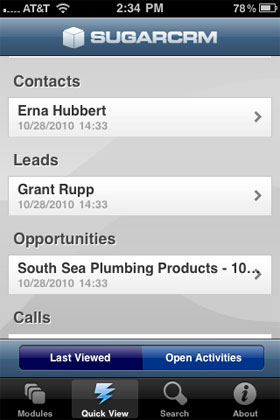 For the first time, it is giving users a mobile app — Sugar Mobile for iPhone — developed directly by the vendor.
Other new features bolster Sugar 6's global functionality.
"We are calling this our 'global mobile social offering,'" Martin Schneider, product manager for SugarCRM, told CRM Buyer.
Mobile Has Left the Building
SugarCRM has been prepping its user base for the iPhone app — as well as other mobile initiatives — for some time.
"This offering is the first in a series of projects we will be rolling out," Schneider said.
Sugar Mobile for iPhone complements existing mobile capabilities in Sugar, allowing users to access their accounts more easily and interface with their CRM system as a native iPhone application. Users can also customize the app for their own operations.
It is available immediately in the Sugar Professional and Enterprise Editions.
New Social Tools for Users and Partners
SugarCRM is introducing several other new social management tools in Sugar 6.
There is a new Twitter Connector that allows users to monitor the Twitter stream of any contact or company from within their Sugar application.
There is also a social component for SugarCRM's partner ecosystem, via a new integration with Qontext. This enables any user to collaborate with associates or partners or customers on leads, opportunities or contacts.
SugarCRM has also added integration with Microsoft Outlook 2010, as well as stronger support for all IMAP email protocol offerings, such as Gmail, from within the Sugar email module. It is offering support for the Google Chrome browser with this release as well.
These social additions complement the company's existing offerings — namely the cloud connectors and social feeds that facilitate the sharing of external data including video, social networking information, or any records from the CRM system.
Global Reach
SugarCRM will release more than 80 community-supported language packs within the next few weeks. These are to support the latest edition of Sugar 6, which is available in 13 additional languages: Bulgarian, Chinese, Danish, Dutch, French, German, Hungarian, Italian, Japanese, Portuguese, Romanian, Russian and Spanish. The new language packs also support local currency capabilities.
SugarCRM felt the need to put these out because of the growing demand for its product around the world, Schneider said.
"The idea was not only to meet the growing demand, though, but also to make it as easy as possible to be up and running with local solutions quickly," he said.
The new language packs are fully supported, he noted, which has been a key demand by users in other regions as well.