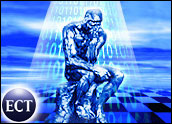 As in Aesop's tale of the tortoise and the hare, perhaps "slow and steady" really does win the race. Sun Microsystems certainly is hoping so. Following a disastrous quarter in which financial results fell far short of analysts' expectations, with net income of just US$12 million on revenue of $2.98 billion, the company is trying to rebound from its slump.
That slump cannot be traced to a single cause. Sun CEO Scott McNealy said in a conference call after the grim earnings report that the company had not focused enough on growing its business. However, the sluggish economy, combined with fierce competition from IBM, Dell and Hewlett-Packard, did not help either.
Now, the company is pinning its hopes on several projects that represent a slightly unorthodox approach for the former high-end superstar. Will Sun's blade servers, low-end servers and open-source Project Mad Hatter help it bounce back and shine brightly in the future?
Open Highway
Some technology snafus remain to be overcome. For example, Sun's x86 blade server slipped a few months in its delivery schedule recently because of a problem with a Broadcom chipset.
However, despite such setbacks, the company is moving forward with new research and product offerings. Recently, it released management software for N1, a computing architecture designed to compete with IBM's on-demand computing and HP's utility computing approaches; more UltraSparc processors; some Linux-based products; and the Orion server software collection, which will be made available as quarterly updates. Sun also is focusing on letting customers manage their own data centers, and it has promised more heterogeneous support for Solaris, other Unix operating systems, Linux and Windows.
Other new initiatives include the Gemini microprocessor line, slated for launch next year — just 24 months after work began on the project. Designed for dense servers, Gemini chips will contain two processor cores on the same piece of silicon.
Sun also has garnered attention for "throughput computing," which will allow its upcoming multithreaded UltraSparc processors to boost application throughput.
Strong Play
However, Sun is focusing the most effort not in the traditional high-end technology market, but in the low-end server arena. This area is dominated by the company's larger competitors, IBM, HP and Dell, but Sun is confident it can move up from the number-four slot it now occupies.
"Being fourth is kind of a competitive advantage," said Mike Mulkey, Sun's strategic marketing manager for its volume system products group. "We've had time to really think this thing through and see where it's going."
Mulkey told the E-Commerce Times that Sun is making an aggressive attempt to compete at the low end of the market. In the past, he said, "Customers would tell us that they'd prefer to go with us, but they couldn't do it because of cost. So, we're making sure that we change that. Right now, it's all about the price."
Modern Maturity
This focus on low-end servers was not a strategy originally visualized by the company, Mulkey noted. "If you'd told Scott McNealy three years ago that he'd be selling an x86 family, he would have told you that you [were] crazy," he said. "There's been a pretty dramatic change over the past couple years, and I think it will give us a long-term benefit."
Aberdeen Group analyst Robert Dorin told the E-Commerce Times that although Sun understands it is not a leader in Linux, blade servers and x86 support, the company's goal is to convince the market that it has matured in these areas.
"But their investments are still around the technology nuggets: SPARC, Solaris, Java and N1," he said.
Despite his enthusiasm for the x86 family, Mulkey agreed that Sun will stay true to its high-end roots even if it branches off toward the low end. "Our past is Sparc and Solaris, and that's our future, too," he said.
Long Road Ahead?
Whether or not Sun can turn all of its new initiatives into positive earnings remains to be seen, especially because the company might be fighting something tougher than market conditions: consumer perception.
Gartner analyst Daryl Plummer told the E-Commerce Times that customers are concerned by Sun's relatively low stock value.
"At first glance, they don't look as good as they did during the dot-com days," he said. "Their revenue is still declining, and they're being attacked by competitors on all fronts."
The company must tread a tough road if it wishes to regain widespread customer admiration, he added, but that path is not an impossible one.
"What they're saying is that they're now able to provide end-to-end solutions — they can deliver service, and at the highest performance," he said. "Will people listen? Maybe. But they've got a long way to go."