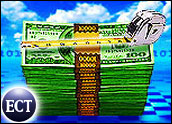 Sun Microsystems recently confirmed that it expects to return to profitability in the second quarter, despite a slight drop-off in orders from the previous quarter.
On April 18th, Sun executives predicted a slight increase in revenue, gross margins and overall operating expenses — and the company stood firmly behind those expectations in its intra-quarter update. The net result of those changes should be a profit, according to outgoing Sun chief financial officer Mike Lehman.
Notwithstanding its lead in the Unix server market, Sun has posted losses for four consecutive quarters and has cut about 3,900 employees so far this year.
"Our results were still being hampered by heavily constrained IT spending," Lehman said.
While the IT spending environment remains the same, Lehman noted, the second-place server seller has done well in executing its profitability plans. He said there is "no reason to change our guidance," although he admitted that Sun still has a "way to go."
What's Wrong?
Sun has a very defensible, clean value proposition, according to Forrester principal analyst Carl Howe. Why, then, has the company posted losses for the past year? Shrinking IT budgets throughout the industry have much to do with Sun's lackluster performance, but there is more to the story.
Last year, Sun focused much of its effort on liquidating old inventory. The company experienced problems common to most companies undertaking product transitions.
"Sun weeded out all the old stuff that would cause the company inventory headaches," Howe told the E-Commerce Times. "Now, they don't have much inventory."
This year, Sun has introduced a product line with new chip technology. The company's production strategy also has shifted, becoming more like Dell's: It builds orders as they come in, ships the orders out and collects the revenue, eliminating inventory pileups.
Waiting for the Rebound
Howe said he expects the technology industry will see a single-digit increase this year — not a major boom but enough to keep companies going. He noted that analysts are not looking for a repeat of 1999 levels.
"Technology rebounds will be much more sane and much more ROI-driven, and that's probably a good thing," said Howe.
Hardware Revival
According to Howe, the hardware side of Sun's business should see bigger gains than the software side because hardware offers something tangible in return for money.
At the height of the Internet bubble, he said, companies purchased software only to shelve it for long periods while consultants figured out how best to leverage its capabilities.
"Companies will be a lot more focused, project-oriented and down-to-earth," he noted, adding that this benefits giants like Sun, Dell and IBM.
For their part, Sun executives are reviving what has historically been a sustainable business model with bottom-line-driven strategies.
"It's really nuts-and-bolts business time," Howe said. "I would be surprised if they go on losing money."
Sun stock slipped 7.4 percent in response to the announcement, falling from US $7.41 at market close Thursday to $6.86 at market close Friday.